New York State Community Toolkit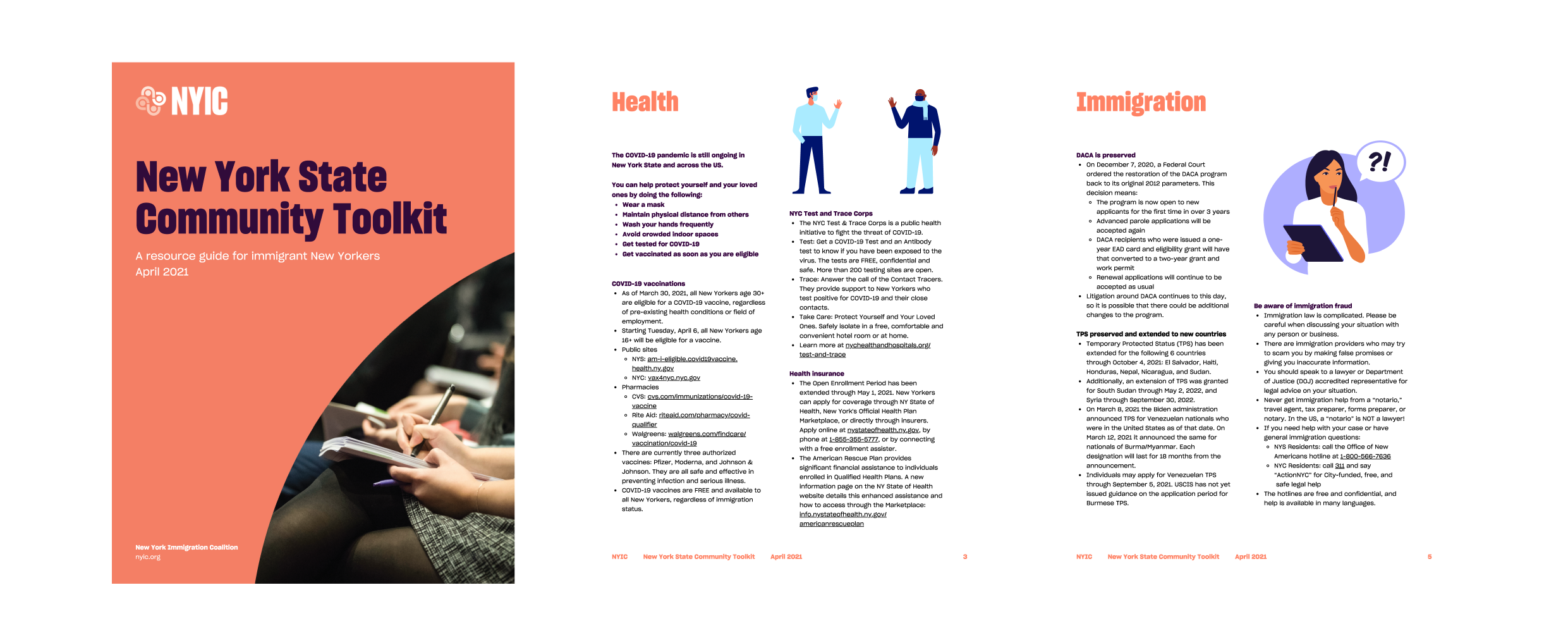 The NYS Community Toolkit is a resource guide for immigrants and allies, offering updates about policies and information about programs to connect immigrant New Yorkers with resources throughout the state.
Know Your Rights Wallet Cards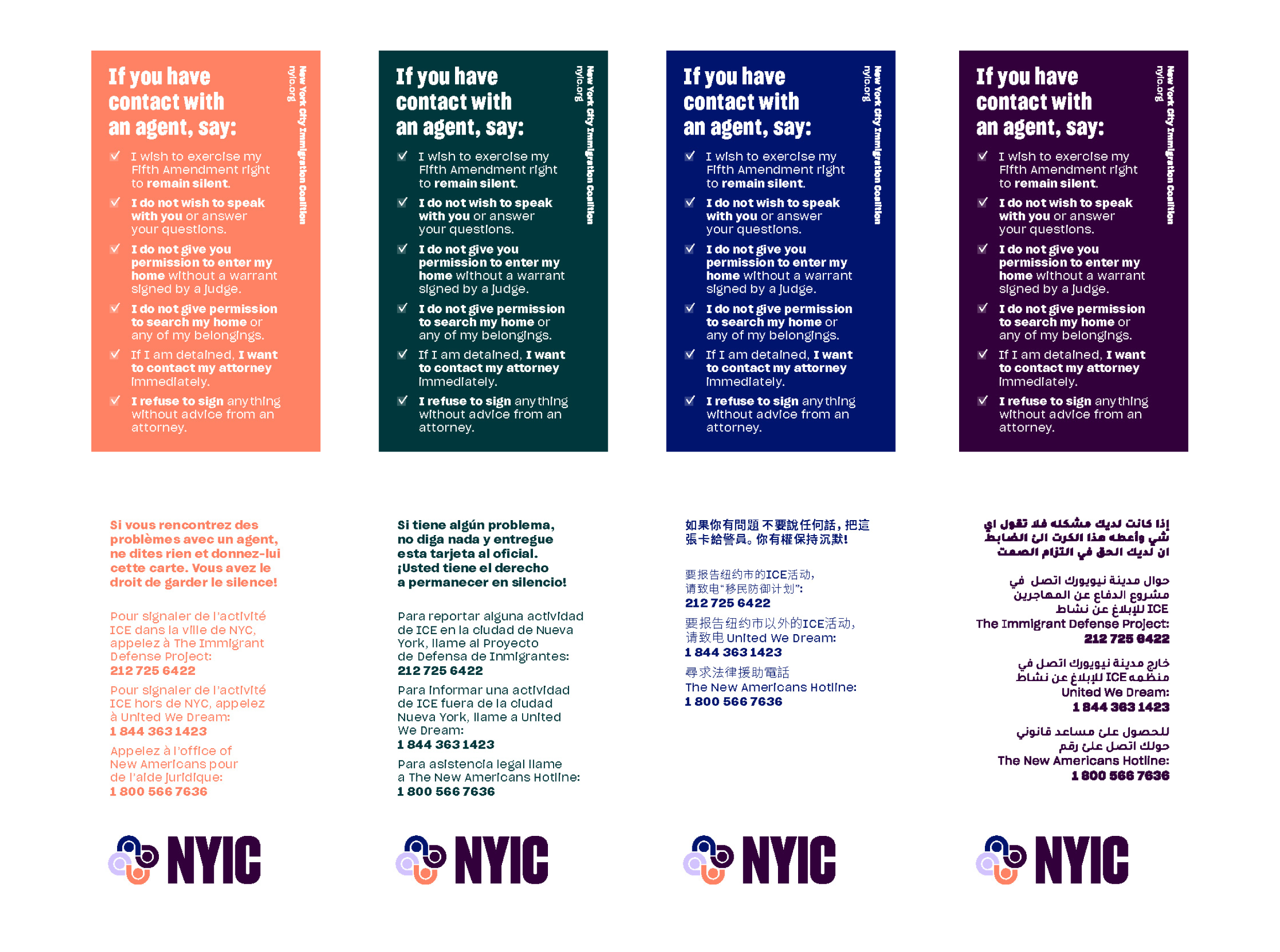 Know Your Rights wallet cards are available in Spanish, French, Chinese (Simplified), and Arabic.
Hurricane Ida Recovery Resources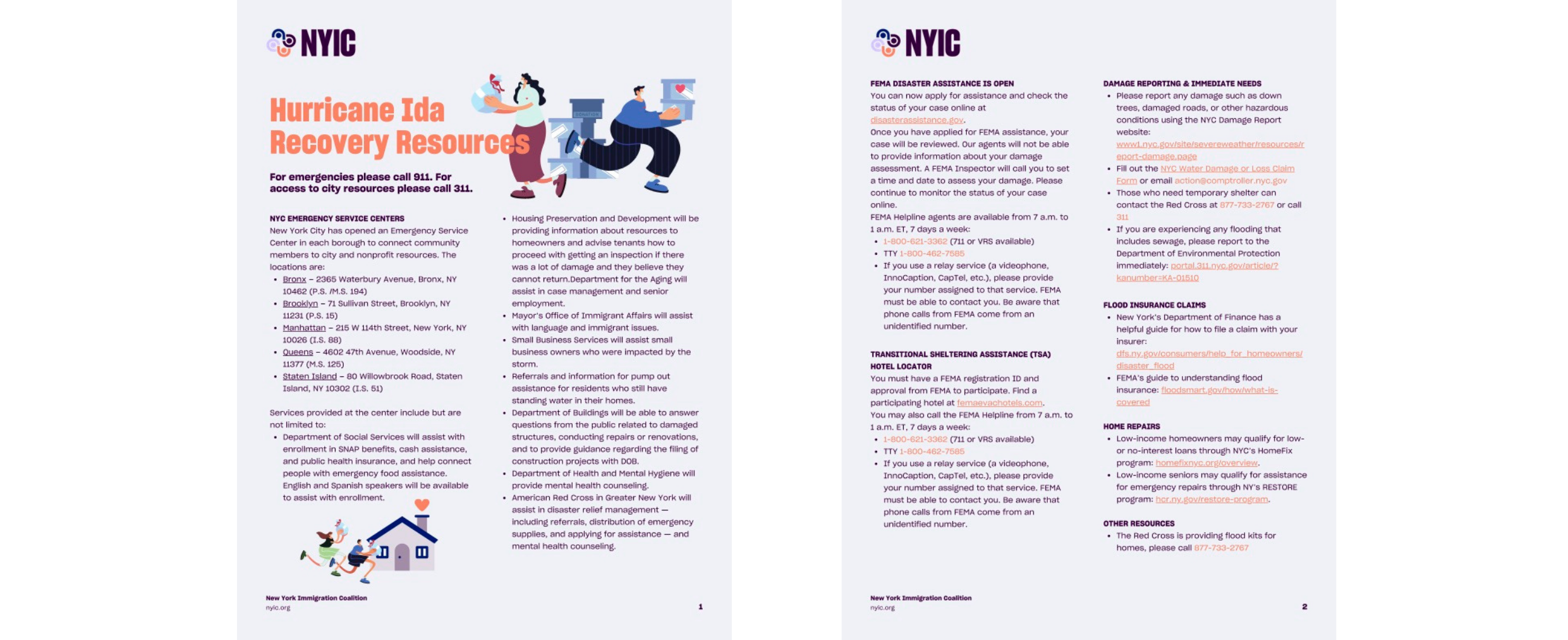 The Hurricane Ida Recovery resource is available in Arabic, Bengali, English, French, Mandarin, Nepali, Russian, Spanish and Yoruba.
Excluded Workers Fund FAQ Guide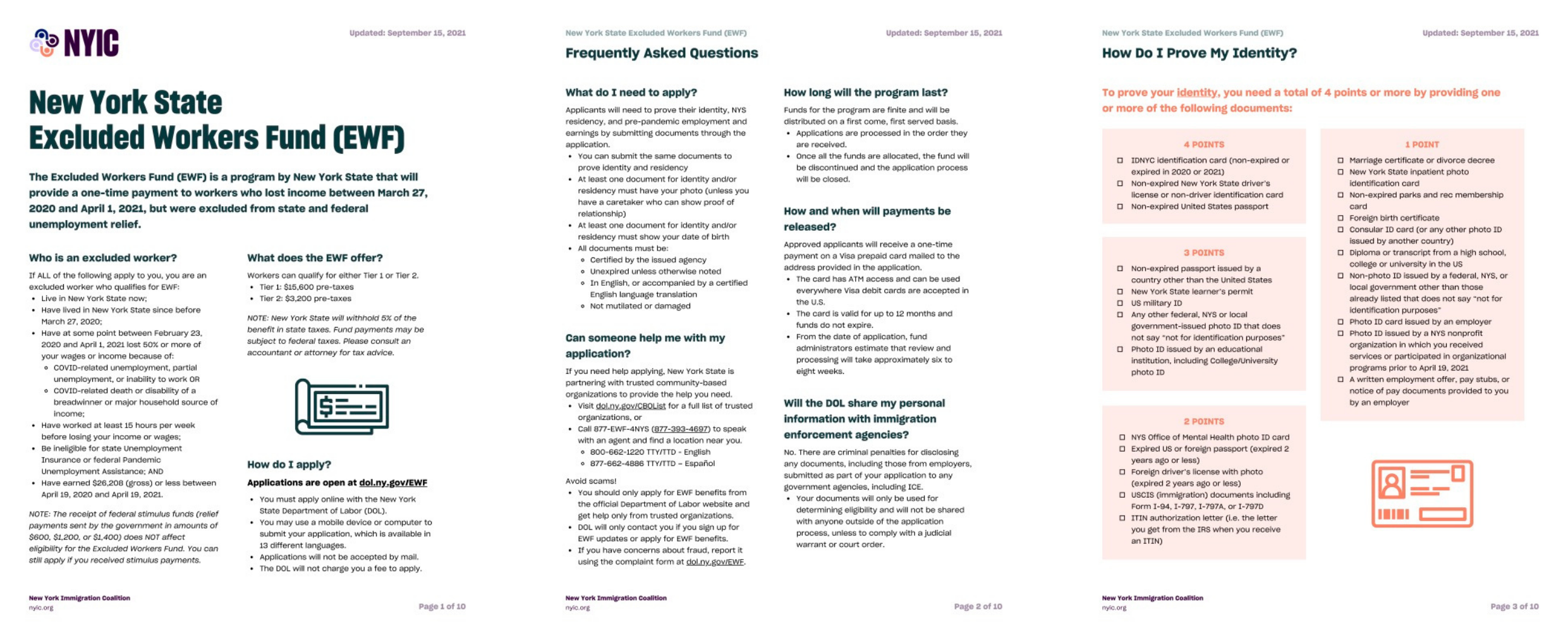 The Excluded Worker Fund FAQ guides applicants through the application and potential appeal process, and provides resources where you can find in-person support statewide.
CUP & NYIC: Immigrants & NY Poster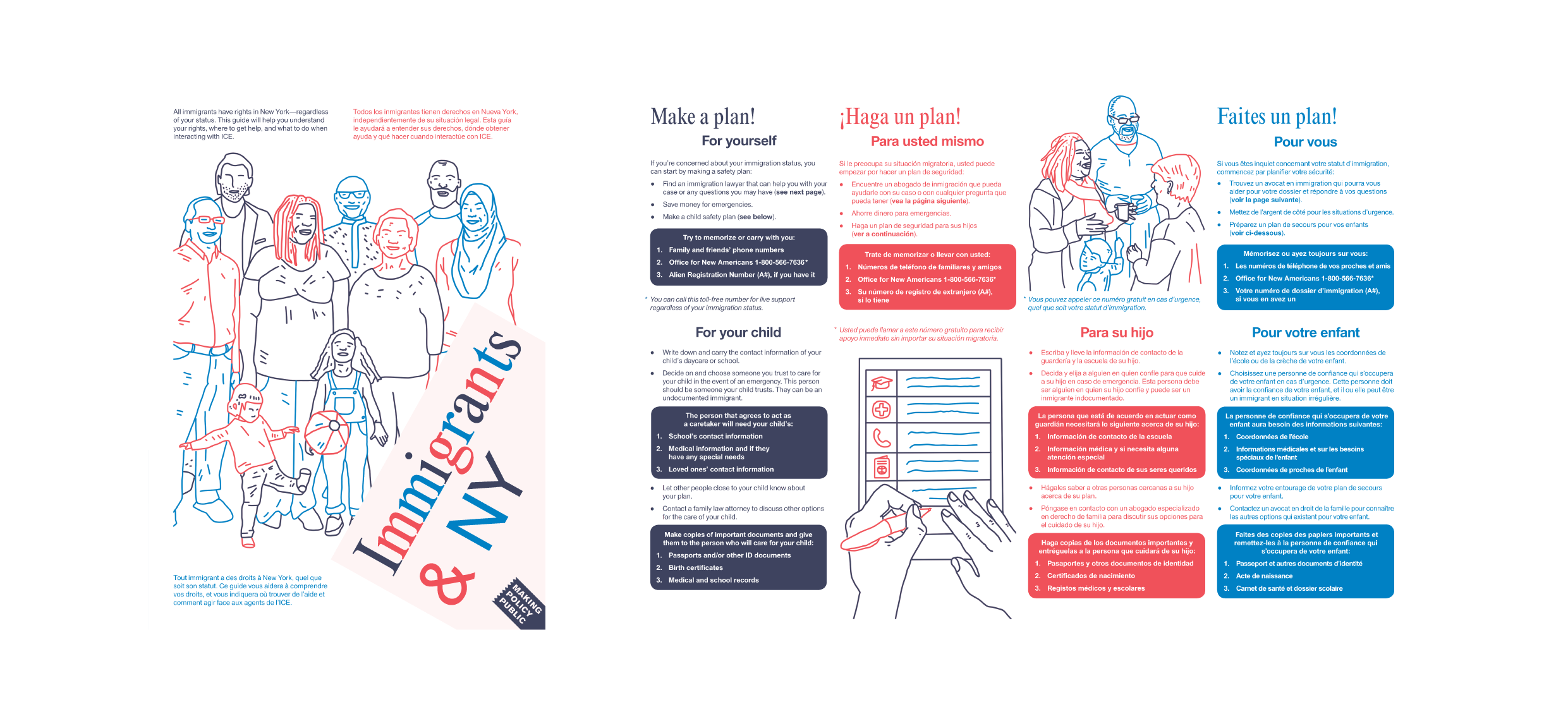 The New York Immigration Coalition partnered with CUP and designer Luiza Dale to create Immigrants & NY, a fold-out poster in English, Spanish, and French. The illustrated poster guides immigrants in New York State on how to avoid immigration scams, protect their families when interacting with ICE, and create a plan for their family in the event of deportation.
To request a KYR presentation please email KYR@nyic.org.
Immigrant Business Guide

Immigrant entrepreneurship is the backbone of this country's economy. In New York State, immigrant business owners account for 33.8% of all self-employed residents, contributing $7.2 billion in business income. While immigrants are more than twice as likely as U.S.-born citizens to start a business, there are few resources specifically dedicated to assisting immigrant business owners.
The Immigrant Business Guide includes information to help you decide which type of business structure is right for you, what the requirements are for forming your business and some of the fees and taxes to expect so that you can stay open for business.
Your Money, Your Future! A Basic Guide for Financial Education and Empowerment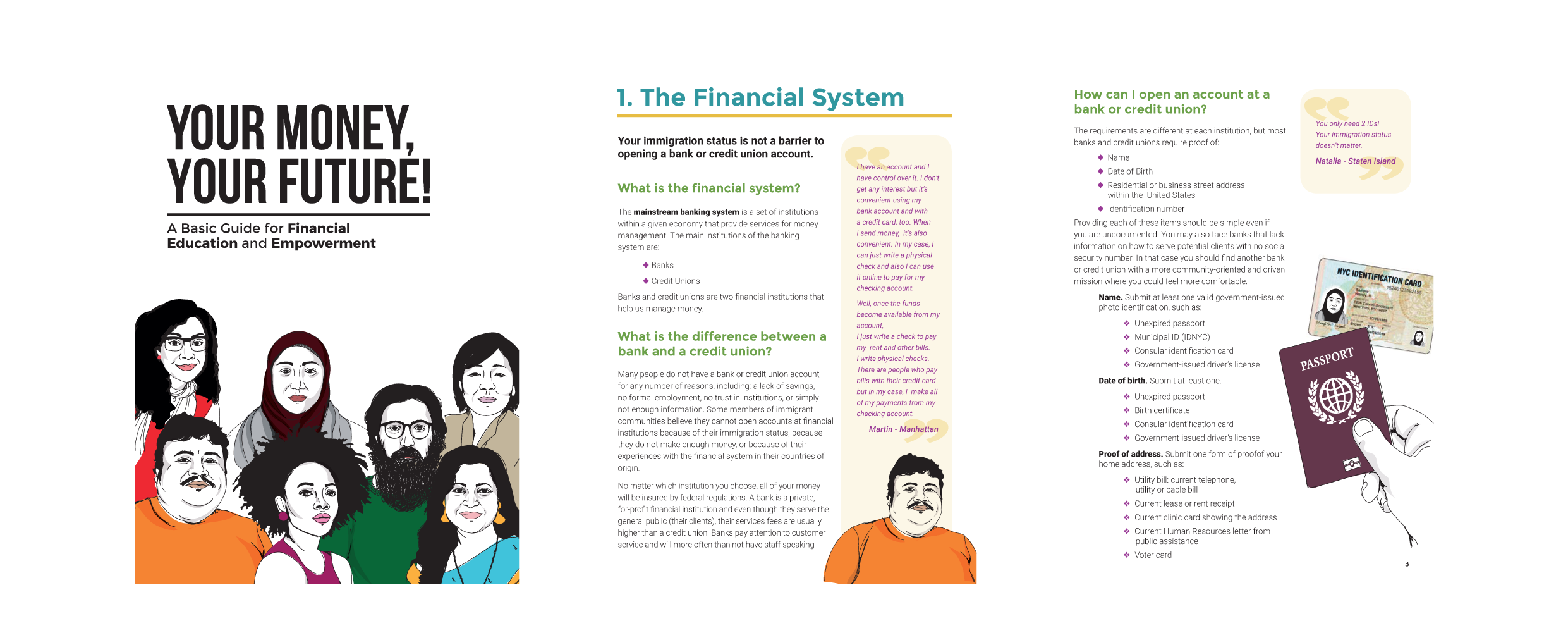 Your Money, Your Future: A Basic Guide for Financial Education and Empowerment provides a basic overview of the American financial system with the aim to educate and better inform immigrant communities. The guide provides readers with information they need to improve their personal finances including basic financial management skills, a list of reliable service providers in New York, and tips on avoiding immigrant-targeting scams.
Welcome to Health Care: Health Care Options for Immigrant New Yorkers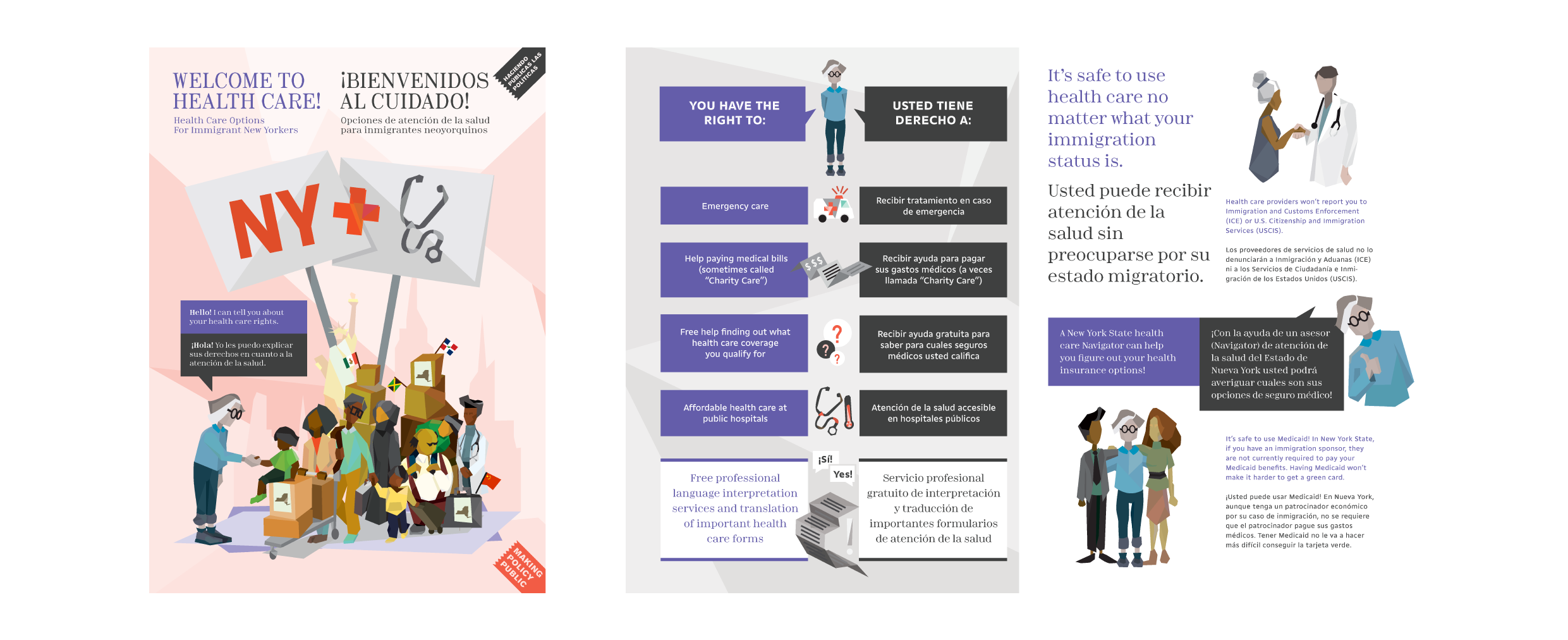 Welcome to Healthcare tackles the complex nature of immigrant eligibility for health coverage and provides information that immigrant New Yorkers need to access health services and receive language and financial assistance. The poster explains eligibility rules for different types of health care coverage based on immigration status, and assures immigrants that health care providers will not report their patients' status to Immigration and Customs Enforcement or US Citizenship and Immigration Services.