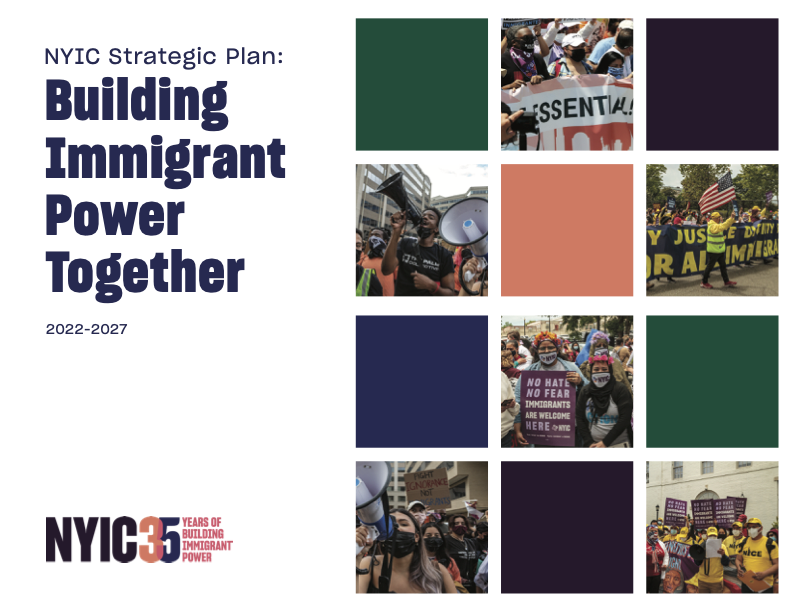 The NYIC is excited to introduce our 2022-2027 Strategic Plan. The strategic planning process spanned six months and engaged a broad range of stakeholders, leaders of NYIC member and partner organizations, the full staff, board of directors, allies, funders, donors, and colleagues. Our new strategies are rooted in furthering our collective society to deliver bold, structural change.
In order to deliver on this new mission, we've identified four key priorities to guide us through the next five years:
Achieve bold policy wins for immigrant rights in NYS with an emphasis on local, regional and statewide campaigns
Strengthen and build immigrant power through deeper state-wide reach, membership recruitment and development, civic engagement, and partnerships with allied organizations
Revitalize and reinforce member organizations including an emphasis on building capacity for community organizing
Strengthen the NYIC's organizational health for greater impact
Building power is a long term commitment to reshape the policies and institutions that govern our lives. Please click here to view our 2022-2027 strategic plan outlining our key objectives for the NYIC this year, as well as our benchmarks for assessing progress around these objectives.