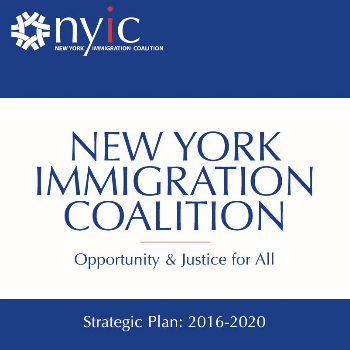 The NYIC completed a major strategic planning and implementation process in 2016 to examine our strengths, identity, and presence as a statewide coalition. We addressed fundamental questions around the NYIC's core mission; target populations; balance between local, state, and federal advocacy efforts; fundraising strategy; and overall key infrastructure and organizational growth.
The results of our strategic planning process include a new mission and a clear articulation of our vision, values, and what we do.
In order to deliver on this new mission, we also identified five key priorities to guide us through the next five years:
Galvanizing members and allies to make progress on our statewide agenda;
Expanding our presence throughout the State to better represent its regions and increase statewide political power;
Fostering newcomers' success by promoting integration policies and working with members and allies to implement them;
Improving the capacity and effectiveness of members and the immigrant-serving landscape as a whole; and
Building a strong and sustainable foundation for the NYIC as an organization.
While the strategic plan was completed prior to the 2016 elections, we believe that these principles and priorities are just as important - if not more important - in this new and uncertain climate for immigrants. Please click here to view strategic plan outlining our key objectives for the NYIC this year, as well as our benchmarks for assessing progress around these objectives.