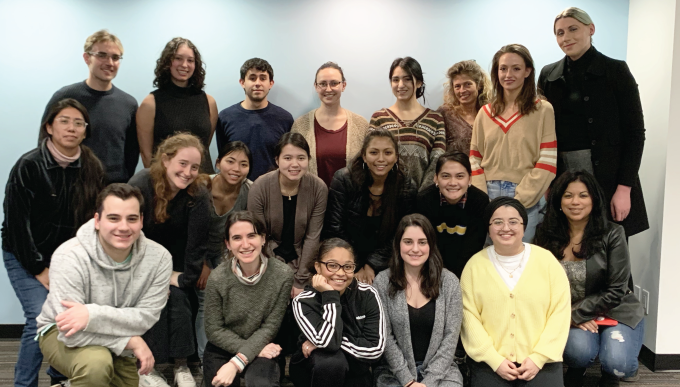 Coalition members have the opportunity to apply for the NYIC VISTA Program, a unique program that pairs full-time AmeriCorps volunteers with organizations serving immigrant communities throughout New York State. NYIC AmeriCorps VISTAs help to build organizational capacity through a variety of roles, and serve for 12 months at a time. Our VISTA program has been active for over five years, and many of our talented VISTA alumni have gone on to full-time positions within their organizations. Learn more about how your organization can apply below.
Check out our new NYIC VISTA positions for 2022 - 2023 here!
To learn more information about the NYIC VISTA program and host site selection process, please click on the hyperlinked topics below or scroll down this webpage with your cursor. If you have any questions, please contact vista@nyic.org.
---
1. Overview of the NYIC Vista Program
NYIC VISTAs are AmeriCorps VISTAs who - through the New York Immigration Coalition (NYIC) - engage in full-time paraprofessional service for a year at a host organization, where they work on capacity-building projects in support of the host's immigrant-focused anti-poverty services.
Capacity-building projects that NYIC VISTAs can work on include:
community outreach
communications
fundraising
program management
volunteer management
NYIC VISTAs are not allowed to do the following through their positions:
provide direct services to community members;
directly engage in advocacy, lobbying, organizing, census and civic engagement activities;
directly engage in protests, petitions and strikes;
conduct electoral activities including non-partisan voter registration;
manage volunteers in advocacy and civic engagement activities;
facilitate religious instruction, worship services or proselytization;
provide abortion services or referrals.
NYIC VISTAs receive the following benefits from the NYIC and/or the Corporation for National and Community (CNCS):
AmeriCorps VISTA Member Orientation (VMO);
multiple in-person, multi-day NYIC VISTA trainings;
weekly NYIC VISTA professional development/networking webinars;
NYIC staff liaison;
monthly check-ins with staff liaison;
peer support group meetings on project area;
networking opportunities with other NYIC VISTAs;
healthcare allowance;
the option of an end-of-year cash stipend or education award;
10 vacation days, 10 medical days and 5 emergency days;
The NYIC supports organizations that are hosting NYIC VISTAs with:
recruiting NYIC VISTAs for service (host sites will be given an opportunity to interview and approve NYIC VISTAs prior to their placement);
orientation for hosting/supervising a NYIC VISTA;
ongoing NYIC staff support and resources.
---
2. Cost of Hosting a NYIC Vista
Organizations who host NYIC VISTAs pay a host site fee to the NYIC. The fee is determined by the host site's annual budget.
| Organization's Annual Budget | Host Site Fee |
| --- | --- |
| $500,000 or higher | $10,000 |
| Under $500,000 | $6,000 |
Organizations with very low financial resources (a budget of $250,000 or less) can request a host site fee reduction through the host site application.
Host sites are also expected to pay for any service-related travel (noncommuting) that they ask their NYIC VISTA to undertake.
---
3. Criteria for Hosting a NYIC Vista
Organizations that are applying to host a NYIC VISTA must:
Have active NYIC Membership; 

have 501(c)3 nonprofit status;

be based in New York State;

have the capacity to engage an NYIC VISTA in capacity-building projects in support of immigrant anti-poverty programs/services;

be able to provide an NYIC VISTA with a direct staff supervisor and a standard office work station;

be able to support an NYIC VISTA in submitting monthly reports to the NYIC.

allow their NYIC VISTA to participate in all NYIC VISTA program activities;

adhere to all AmeriCorps VISTA and NYIC VISTA policies.
All NYIC VISTA Host applications will be primarily assessed on the following criteria:
applicant has active NYIC Membership;

applicant has adequately described how the NYIC VISTA's work on community outreach, communications, fundraising, program management and/or volunteer management projects can support the organization in developing capacity around immigrant anti-poverty services;

applicant has created a plan to ensure that the capacity built by an NYIC VISTA is sustainable past the NYIC VISTA's term of service;

applicant has identified how it can support an NYIC VISTA in having a positive, productive and educational experience at its office;

applicant has created attainable performance measures for an NYIC VISTA's work on capacity building and for the anti-poverty programs/services that the capacity building work would support.
The following factors will also be considered during the decision-making process in an attempt to place many of the NYIC VISTAs at organizations serving underserved regions and immigrant communities within New York State.
Geographic areas served
Immigrant communities served
All proposals to host a NYIC AmeriCorps VISTA will be evaluated by a committee comprised of NYIC staff, AmeriCorps members, Board Members and Member organization representatives. The NYIC will issue preliminary decisions on proposals by early March. Final decisions will be made by CNCS and will be communicated out by the NYIC in April.