Adhikaar, meaning "Rights" in Nepali, is a powerful community of activists, organizers, and community members. Its boisterous red facade jumps out on a quiet Woodside block, and reflects the energy of its members. Inside, dozens of Nepali immigrants are receiving services, learning English, getting legal help, and using the space for community support.
In 2005, four Nepali women founded Adhikaar to address inequalities the Nepali community faced in New York City. With only $500 dollars, the four women began collecting the stories of immigrant workers, from nail-salon technicians to taxi drivers, and the injustices and tribulations they faced day-to-day. Two years later in 2007, Adhikaar opened a community center in Woodside, Queens. What started as a one room operation in 2009 expanded quickly, and by 2014 the work had grown exponentially and was run out of a whole building.. The center now provides a comprehensive site for citizenship classes, organizing meetings, community events, and more!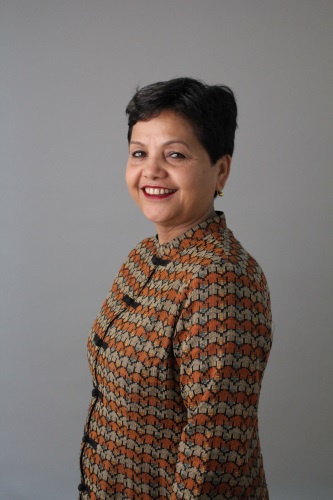 Narbada Chhetri, Director of Organizing & Advocacy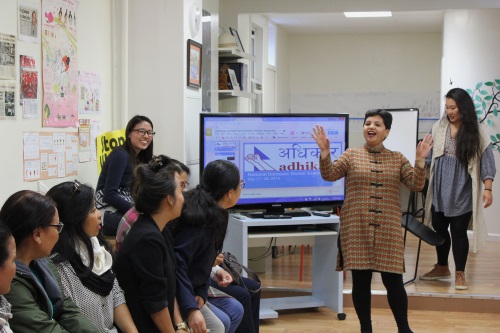 Chhetri presenting to domestic worker organizers
I visited Adhikaar to talk with its organizers and learn more about what they do to empower Nepali New Yorkers. I spoke with Narbada Chhetri, Director of Organizing and Advocacy, pictured above, and Megha Lama, an Adhikaar organizer, pictured below.
Megha Lama was born and raised in Nepal, and later became a naturalized U.S. citizen. She did an internship at Adhikaar in 2009, when there were only three staff workers and three interns, and focused on youth coordinating and outreach. As an organizer, she works with the Nail Salon campaign, which works directly with nail salon workers to improve licensing and working conditions. She also works on the Adhikaar civic engagement program by registering voters, doing "Get Out the Vote" phone banking and door-to-door campaigns, and more.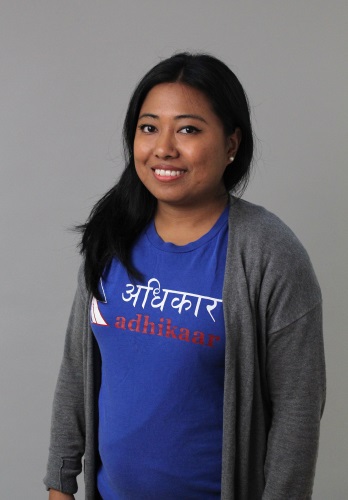 Megha Lama, Organizer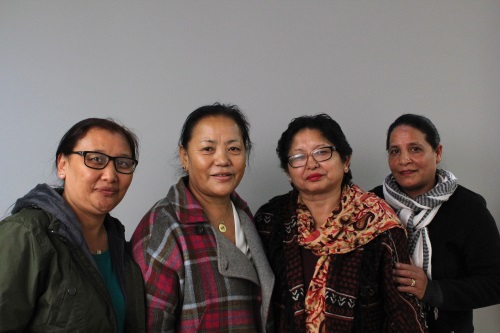 Domestic worker organizers at Adhikaar
Adhikaar organizers have agitated hard, and successfully, for workers' rights. The Nail Salon campaign started in 2011and helped create a wage bond for employees, to protect against wage theft. It also made it easier for unlicensed workers to get licensed no matter their immigration status. Adhikaar organizers helped add Nepali, Vietnamese, and Tibetan languages to the nail salon licensing exam. Adhikaar organizers have also implemented Occupational Safety and Health Administration (OSHA) trainings, including chemical awareness, ergonomics training, and other environmental concerns. They also published "Behind the Polish," a participatory action research report involving more than 200 Tibetan and Nepali nail salon workers, and worked with Governor Cuomo to release the Nail Salon Workers' Bill of Rights. Adhikaar also campaigned for and won the New York State Domestic Workers Bill of Rights. The Domestic Workers Bill of Rights was the first legislation in the country to formalize the rights of domestic workers, and recognizes their dignity and service. Adhikaar also successfully fought for the International Convention on Domestic Workers (C189).
I attended a Domestic Worker organizer meeting at Adhikaar; some of the courageous women are pictured in this essay.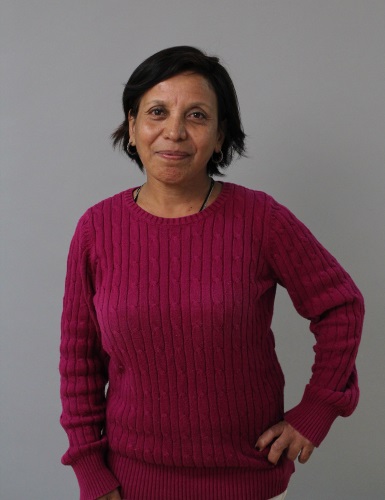 Namrata Pradhan, Organizer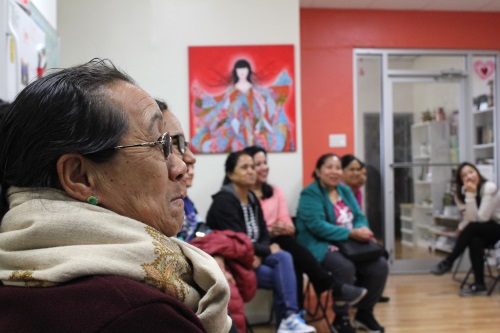 Domestic worker organizers at Adhikaar
Along with all that they do domestically, Adhikaar also responds to issues at home in Nepal. In 2016, Adhikaar organizers waged a successful campaign to get Nepal designated with Temporary Protected Status by the US Department of Homeland Security. Nepali immigrants can now apply to receive TPS while it is unsafe to return to Nepal. This allows them to work in the United States, protects them from deportation, and allows them to send money home, which is a valuable lifeline for families and communities. Adhikaar also supports the Manhattan District Attorney's fight against immigration fraud, and worked with the New York Immigration Coalition to push forward new anti-immigration-fraud bill Intro 746.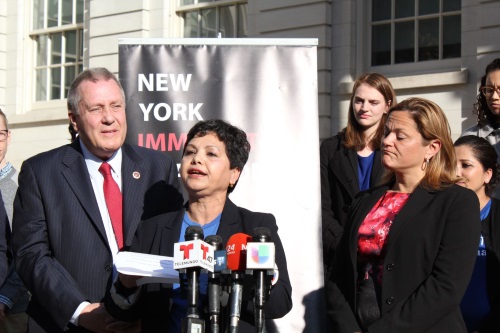 Narbadha Chhetri speaks about the need in the Nepali community for Intro 746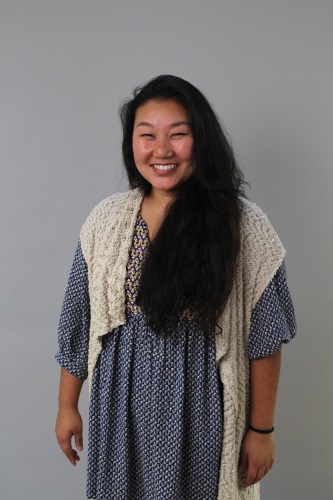 Tsering Lama, Organizer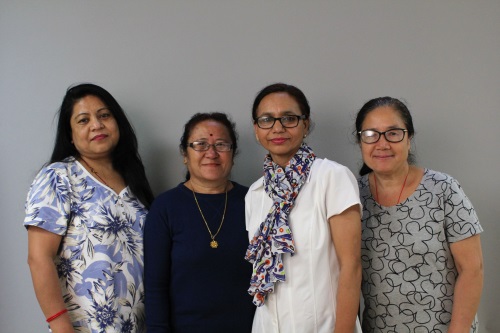 Domestic worker organizers at Adhikaar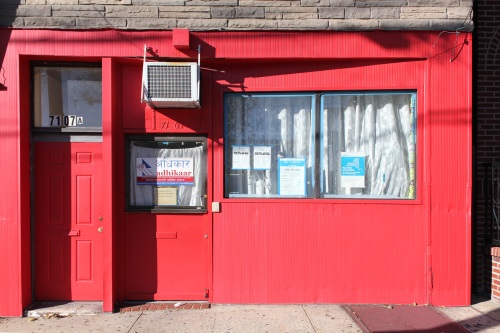 Adhikaar's facade is cheerful yet reserved; one would never guess at the activity going on behind its door and windows.
Although Adhikaar faces many challenges, Chhetri is strengthened by the community she serves. When I asked her the lessons she's learned from organizing in the Nepali community, Chhetri responded, "First of all, we are human beings. Geographical borders gave us the name 'immigrant.' I have seen lots of racism and discrimination against the low-income and marginalized community of immigrants, but we are determined to protect them from insecurity and fear." Adhikaar will continue to fight for the rights and dignity of Nepalis in the United States and beyond, no matter the opposition.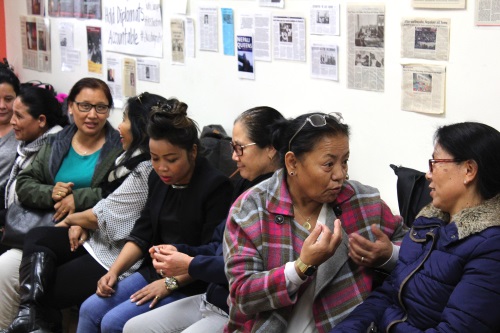 Domestic worker organizers engage in an ice-breaker activity during a meeting at Adhikaar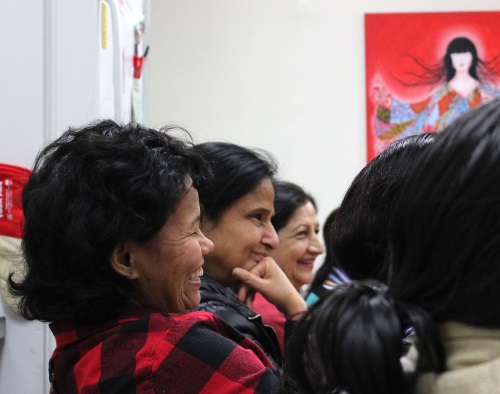 Laughter, community building, and organizing!
Adhikaar has been a member of the New York Immigration Coalition since 2013. You can support their work by clicking here.