Tomorrow is the presidential election - but for New Yorkers, it's also the election for U.S. Senate and House, State Senate and Assembly, and Municipal, Civil, and Supreme Court justices.
Confused about who to vote for? Ballot Ready has a great tool - type in your address and it will list the candidates and their qualifications for your area.
If you live within the five boroughs, check out this pollsite locator to find where you can vote.
Questions about voting in NYC? Call 866-VOTE-NYC or 212-VOTE-NYC.
Each borough also has its own voter help line:
Manhattan Voter Help Line: 212-886-2100
Brooklyn Voter Help Line: 718-797-8800
Queens Voter Help Line: 718-730-6730
Bronx Voter Help Line: 718-299-9017
Staten Island Voter Help Line: 718-876-0079
If you are not in NYC, or if you need help voting in another language, call these hotlines:
866-OUR-VOTE - English
888-VE-Y-VOTA - English & Spanish
888-API-VOTE - English, Chinese, Vietnamese, Korean, Bengali, Hindi, Urdu, and Tagalog
In NY State, polls open at 6 a.m. and close at 9 p.m.
The Daily Kos has a great guide to poll closing times across the country: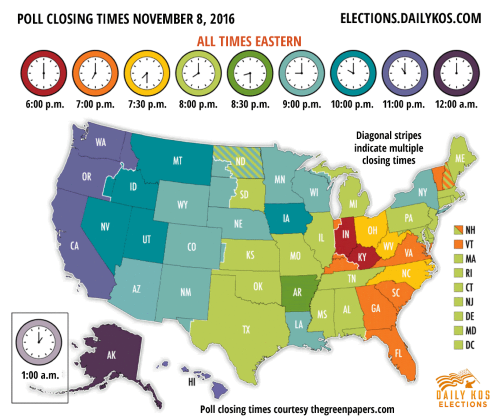 Finally - don't forget to MAKE A PLAN for how you will go to your polling site tomorrow! - What time will you vote? Will you drive or car pool? Will you take the bus or subway? How much time will you need to get to your polling place?
We'll see you at the polls.