The office of the Federal Register has announced that the Department of Homeland Security (DHS) will be changing the fees for immigration and naturalization benefit requests, which are processed by U.S. Citizenship and Immigration Services (USCIS).
The naturalization (Form N-400) fee will have three levels. The standard fee, which includes biometrics, will increase from $680 to $725. However, USCIS is also introducing a partial fee waiver for households with incomes that are between 150-200 percent of the federal poverty guidelines, or between $36,000-$48,000 per year for a household of four. The full fee waiver, which is in effect for households making under 150% of the federal poverty guidelines, will not change. Check out the National Partnership for New Americans' (NPNA) press release on the fee changes here.
The NYIC and the NPNA have been pushing for a fee waiver for years: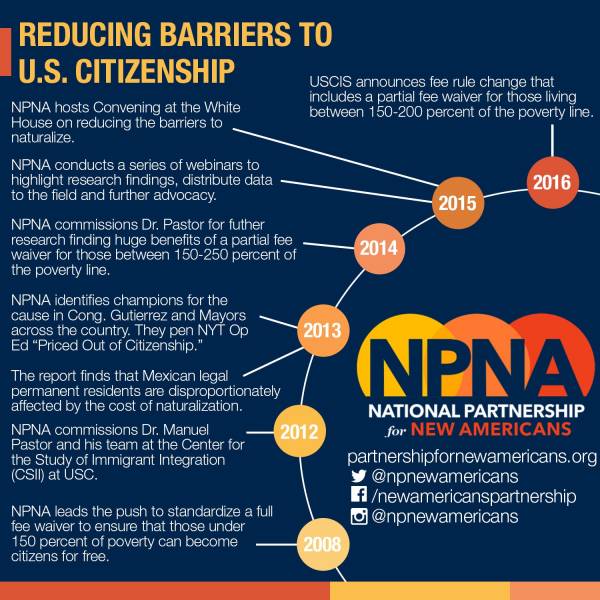 Steven Choi, NPNA Board Member and Executive Director of the NYIC, commented on the fee waiver when it was announced in May 2016:
"This new partial fee waiver, which the NYIC and NPNA have been pushing for years, is an important step for millions of immigrants who qualify for citizenship but are unable to apply because of the high fees. The partial fee waiver will expand the reach of our Empower Immigrant New Yorkers campaign to thousands more of individuals, bringing new strength and stability to low income communities. At the same time, we remain concerned by the rising costs of applications over time, and call on the Administration to consider strategies to lower hurdles to naturalization so that even more individuals are not barred from the American Dream."
USCIS and DHS completed a fee analysis this year, and decided that current fees do not fully cover operating costs. This is the first fee adjustment since 2010. Fees will be increased by a weighted average of 21 percent. However, certain fees will increase more or less than 21 percent. The full fee schedule is listed below.
https://www.federalregister.gov/documents/2016/10/24/2016-25328/us-citizenship-and-immigration-services-fee-schedule
Table 1—Non-Statutory IEFA Immigration Benefit Request Fees
| Form No.5 | Title | Current fee | Final fee |
| --- | --- | --- | --- |
| G-1041 | Genealogy Index Search Request | $20 | $65 |
| G-1041A | Genealogy Records Request (Copy from Microfilm) | 20 | 65 |
| G-1041A | Genealogy Records Request (Copy from Textual Record) | 35 | 65 |
| I-90 | Application to Replace Permanent Resident Card | 365 | 455 |
| I-102 | Application for Replacement/Initial Nonimmigrant Arrival-Departure Document | 330 | 445 |
| I-129/129CW | Petition for a Nonimmigrant Worker | 325 | 460 |
| I-129F | Petition for Alien Fiancé(e) | 340 | 535 |
| I-130 | Petition for Alien Relative | 420 | 535 |
| I-1316/I-131A7 | Application for Travel Document | 360 | 575 |
| I-140 | Immigrant Petition for Alien Worker | 580 | 700 |
| I-191 | Application for Advance Permission to Return to Unrelinquished Domicile | 585 | 930 |
| I-192 | Application for Advance Permission to Enter as Nonimmigrant | 585 | 585/9308 |
| I-193 | Application for Waiver of Passport and/or Visa | 585 | 585 |
| I-212 | Application for Permission to Reapply for Admission into the U.S. After Deportation or Removal | 585 | 930 |
| I-290B | Notice of Appeal or Motion | 630 | 675 |
| I-360 | Petition for Amerasian Widow(er) or Special Immigrant | 405 | 435 |
| I-485 | Application to Register Permanent Residence or Adjust Status | 985 | 1,140 |
| I-485 | Application to Register Permanent Residence or Adjust Status (certain applicants under the age of 14 years) | 635 | 750 |
| I-526 | Immigrant Petition by Alien Entrepreneur | 1,500 | 3,675 |
| I-539 | Application to Extend/Change Nonimmigrant Status | 290 | 370 |
| I-600/600A | Petition to Classify Orphan as an Immediate Relative/Application for Advance Petition Processing of Orphan Petition | 720 | 775 |
| I-800/800A | Petition to Classify Convention Adoptee as an Immediate Relative/Application for Determination of Suitability to Adopt a Child from a Convention Country | 720 | 775 |
| I-601 | Application for Waiver of Ground of Excludability | 585 | 930 |
| I-601A | Application for Provisional Unlawful Presence Waiver | 585 | 630 |
| I-612 | Application for Waiver of the Foreign Residence Requirement (Under Section 212(e) of the INA, as Amended) | 585 | 930 |
| I-687 | Application for Status as a Temporary Resident under Section 245A of the Immigration and Nationality Act | 1,130 | 1,130 |
| I-690 | Application for Waiver of Grounds of Inadmissibility | 200 | 715 |
| I-694 | Notice of Appeal of Decision | 755 | 890 |
| I-698 | Application to Adjust Status From Temporary to Permanent Resident (Under Section 245A of the INA) | 1,020 | 1,670 |
| I-751 | Petition to Remove Conditions on Residence | 505 | 595 |
| I-765 | Application for Employment Authorization | 380 | 410 |
| I-800A Supp. 3 | Request for Action on Approved Form I-800A | 360 | 385 |
| I-817 | Application for Family Unity Benefits | 435 | 600 |
| I-824 | Application for Action on an Approved Application or Petition | 405 | 465 |
| I-829 | Petition by Entrepreneur to Remove Conditions | 3,750 | 3,750 |
| I-910 | Application for Civil Surgeon Designation | 615 | 785 |
| I-9249 | Application for Regional Center Designation Under the Immigrant Investor Program | 6,230 | 17,795 |
| I-924A | Annual Certification of Regional Center | 0 | 3,035 |
| I-929 | Petition for Qualifying Family Member of a U-1 Nonimmigrant | 215 | 230 |
| N-300 | Application to File Declaration of Intention | 250 | 270 |
| N-336 | Request for Hearing on a Decision in Naturalization Proceedings | 650 | 700 |
| N-400 | Application for Naturalization | 595 | 640 |
| N-470 | Application to Preserve Residence for Naturalization Purposes | 330 | 355 |
| N-565 | Application for Certification of Citizenship/Application for Citizenship and Issuance of Certificate under Section 322 | 600/55010 | 1,170 |
| | USCIS Immigrant Fee11 | 165 | 220 |
| | Biometric Services Fee | 85 | 85 |