NYIC Membership Highlight:
"I feel really privileged to be able to come into a space and work with a team that's dedicated to promoting, protecting, and elevating the work of our immigrant families… we're taking journeys with people." - Cynthia Carrion, Deputy Director,
Northern Manhattan Coalition for Immigrant Rights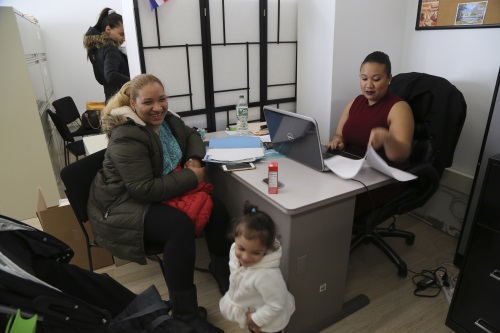 A client receiving immigration services at the Northern Manhattan Coalition for Immigrant Rights offices
In 1982, a group of community activists and professionals in northern Manhattan identified a challenge: the stark lack of culturally competent, Spanish-language immigration services. Dominican immigrants had been pouring into the area since the 1960s and 70s, creating a desperate need for Spanish-speaking lawyers and immigration specialists. The Northern Manhattan Coalition for Immigrant Rights (NMCIR) was formed out of this moment to provide the necessary services. The coalition began with volunteer attorneys, and after a few years began to receive funding from the city. From there, the group expanded, focusing on citizenship and anti-deportation work, and civics and English classes.
In 1996, with the passage of the Antiterrorism and Effective Death Penalty Act (AEDPA) and the Illegal Immigration Reform and Immigrant Responsibility Act (IIRIRA), the coalition faced new challenges. IIRIRA & AEDPA added new categories for deportation, including those with past criminal convictions. NMCIR had to redouble their efforts, as northern Manhattan, specifically Washington Heights, was a major target of the drug war. Many non-citizen residents had been living peacefully for years with past convictions; now, they were targets. NMCIR worked tirelessly to fight for immigrants facing deportation. One notable victory came when NMCIR helped overturn the deportation of Jean Montrevil, a Haitian immigrant who was detained after a routine post-incarceration check in. Montrevil was later released, in large part due to NMCIR's direct actions.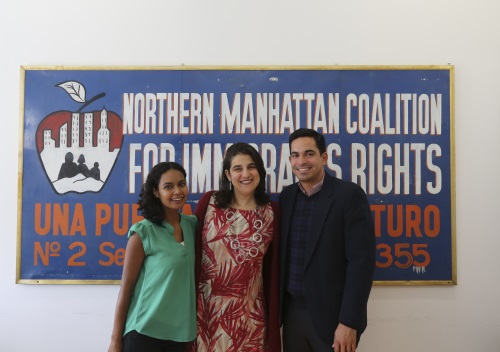 Left to right: Cynthia Carrion, Deputy Director; Angela Fernandez, Executive Director; and Anthony Alba, Staff Attorney, with the Coalition's original sign.
The NMCIR helped prevent Haitian national Montrevil's deportation, but they have also worked for the rights of Dominicans of Haitian descent in the Dominican republic. The NMCIR worked with Sonia Pierre, who was a leader in the movement for the rights of Dominicans of Haitian descent. Cynthia Carrion, the organization's Deputy Director, continued that work in the Dominican Republic. The organization is committed to justice for all, and has continued that mission by expanding their focus to address all immigrants in Northern Manhattan, including African, Middle Eastern, and European immigrants.
One of the coalition's greatest successes was helping to create the court-appointed counsel program that matches all NYC immigrants in detention with attorneys.
NMCIR's Executive Director Angela Fernandez recalled the process:
"Our organization used to receive countless calls from detention, people saying they'd paid $10,000 dollars for an attorney and were still detained eight months later, or hadn't heard from the attorney, or that they couldn't afford an attorney. They were going up against immigration court judges without any representation at all, not understanding the language. A coalition formed to address the issue, and invited us to spearhead the advocacy to convince the city to fund a program. We wanted them to hire high quality deportation defense attorneys to be matched up with defendants in the courtroom, the same way people are in criminal defense."
Fernandez continued, "We jumped at it, and within a year, a pilot program was created, funded by the city council, and the success of that program was astounding. 70% of the people who were matched up with an attorney were released immediately and were able to fight their case from outside. When you fight your case outside of detention, your chances of winning the case increase dramatically. Because of that success, the city decided to expand the funding and cover every single person who's in detention." The program is still in effect today, and is a huge success."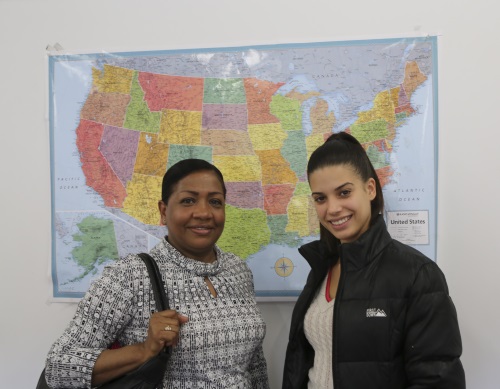 Clients at NMCIR can receive a variety of services;
these women are waiting for classes on the citizenship exam
NMCIR has been successful because of its culturally competent staff that are tied to the surrounding community. Many staff are immigrants themselves and understand the immigrant experience intimately. Deputy Director Cynthia Carrion has deep roots in the Inwood and Washington Heights area, and her background in the neighborhood informs her work there:
"My grandmother, when she first came here over 50 years ago, lived on Post and Academy. This neighborhood is in my veins. My daughters were born and grew up on 190th and Broadway, the first home we ever purchased was in this neighborhood. This isn't just a place I work, this is part of me. This is my community, and so when I see people, I don't see them as a client - they're my primas, they're my cousins. They're family… when you grow up as an immigrant or immigrant family, there's something that automatically bonds you with that experience. Something that we're really proud of at the coalition is that we're culturally competent. We respond to the needs of the community because we're based here. We see ourselves in every person who walks in.
This cultural competency leads to trust and clients who return to the NMCIR again and again. Carrion noted that clients come from as far as Long Island, Westchester, and Connecticut for services. In an era where misinformation and immigration legal fraud run rampant, the NMCIR plays a role as a trusted member of the community. As Carrion states, "People trust us, because we did their citizenship - now they're sponsoring a family member to come, and they want to do it with us. No matter where they go, they come back. People are nervous and they want to make sure they're coming to trusted organizations."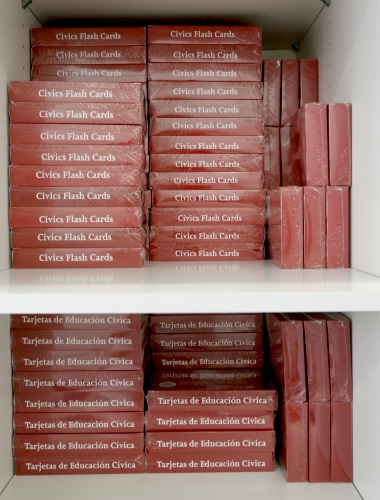 Teaching materials at the NMCIR
Today, NMCIR is a thriving and growing organization. They offer a variety of services, including one-on-one legal consultations; assistance for applying for adjustment of legal status, filing for citizenship, naturalization, and family-based petition; ESL and citizenship/naturalization classes; and advocacy and community organizing. The NMCIR's former community organizing projects have included the NMCIR Campaign to Expand Judicial Discretion in Immigration Court, the NMCIR Campaign to Expand Judicial Discretion in Immigration Court, the Anti-Deportation Campaign, and Civic Participation.
The NMCIR says that it will continue to fight for immigrants' rights in the coming months and years. Angela Fernandez affirmed the importance of the NMCIR's work and principles, stating firmly that "We will be continuing to do the same work, we will be be providing education, information, and we also envision ourselves responding to moves that place people in deportation. We did this in the past, and we will do it again, where we put ourselves physically in the way and stop deportations." In a harrowing time for immigrants of all nations, the NMCIR will not stop providing a safe, culturally competent, and effective space for organizing, services, and action."
Northern Manhattan Coalition of Immigrants Rights has been a member of the New York Immigration Coalition since the mid-1990s. Angela Fernandez serves on NYIC's board.