Lawrence Bureh, a Sierra Leonean on TPS, shares his story with the NYIC.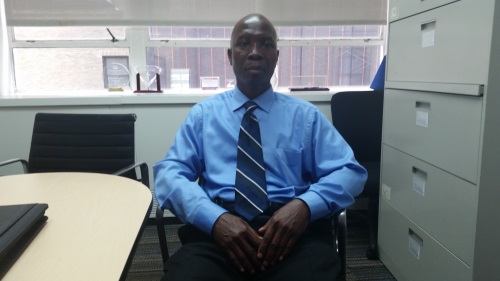 Lawrence at the NYIC Office
What are some things you've enjoyed or found positive about living in New York?
In my community, everyone is working hard either to support their family here and back home, to pay bills or go to school and this encourages me to work harder to provide a better life for myself and my family.
What is or was the most difficult part of being in America?
You have to struggle to get what you really want which can be very frustrating. For example, if you want to go to school or college, you will have problems finding aid without a social security number; you can't get federal aid which means there is a high chance you have to pay out of pocket. This means you have to look for a job which takes a while to find.
How did you or are you managing it?
My family and friends have been able to support me. When I first came here, they housed and took care of me and I am grateful. However, what has kept me going is having a job because getting one gave me the opportunity to be independent and gain a sense of satisfaction from the fact that I work hard to earn what I have.
What does Temporary Protection Status (TPS) mean for you and your family?
TPS came about after the ebola epidemic in Sierra Leone, Liberia and Guinea. My visa gave me only a short period of time to live in the US, but when the epidemic broke, the US government warned us about the risks of going back and said that if we wanted to stay, they would provide TPS so that we can have the documentation to work and live legally in America. This persuaded me to stay here and try to work in order to send money or aid to my family in Sierra Leone. My family is made up of farmers, like majority of the people in Sierra Leone. When the epidemic broke, no one could or would go out to farm, sell food products or open their businesses for fear of infection. For this reason, crops failed and the only way my family, and most families, could survive was by having their family send them foodstuffs and medical aid to them. TPS therefore gives me the opportunity to sponsor and take care of my family.
What would you want people to know about TPS?
TPS allows me, and people in situations like mine, to work legally in this country. Thankfully the US government has extended this status, but my concern is how long TPS will last. Because TPS is not permanent, I constantly worry about job availability. Most employers are aware that this status is not permanent. For this reason, they decrease the amount of hours they give you. I work as a security guard and when my employers became aware the my TPS was about to expire, they didn't schedule any work for me until it was renewed. My friend is going through this same issue at the moment. Without the ability to work, we can't have money to support our families. Sometimes you may have the qualifications for a permanent position that could offer more pay and opportunities, but if you have TPS, they would only make you work part time because they know that TPS is temporary and they would not want to depend on you. For example, I am trained in computer surveillance and have a degree for this, but because of my status, I am not give such jobs. Unfortunately, this is the reality of TPS.
I hope, however, that a more permanent solution will be offered soon because the epidemic isn't over. The disease may be controlled, but my family would still need support as my country tries to get back on its feet.
What encouraged you to be open about your story?
I want to share my story because my experiences in America have not matched with the principles that America was founded on. When you are going to apply for a job or go to school, they say that you can't be rejected based on your race, gender, ethnicity, status, religion etc., but having TPS has put me in a vulnerable position where I have to limit myself in order to keep a job and provide for my family. So I share my story so that people will be aware of the struggles that come from having a non-permanent status in this country. I believe that if employers or people are going to continue to say that we all have an equal opportunities in America, then that must be reflected in the laws that are written and the way people act; saying one thing and doing another just causes further division in this country.
What encouraged you to be an advocate for the African community?
I am an active member of African Communities Together (ACT). During my time at this organization, I have seen the power of the African community working, thinking and acting together. It excites me to see this and I have been motivated to advocate in whatever way possible for the needs of my community.
What do you hope to accomplish for yourself and your family?
I hope to have the opportunity to stay here, complete my education and keep working hard to provide a better life for myself and my family.
What do you want people to know about you?
I am a bold, outspoken person, I am an intellectual and I am fighting for the opportunity to represent and advocate for my family and community so that they can have an equal opportunity to a better life. I want to help develop my community and even American society. People with TPS are the financial, medical and emotional support to their family back home and I hope that the government offers a permanent solution so that we can provide a better life for our families as we help develop the American society.
For more information about Lawrence, please click on the link below: