Last week 22 New York City high school students from across the five boroughs graduated from the second cohort of the New American Youth Leadership Corps (NAYLC), an initiative run by the New York Immigration Coalition and supported with funding from Citi Community Development.
NAYLC was developed to support 1st or 2nd generation immigrant high school students in their leadership development and pathways to success. The second cohort ran from July 18 to September 26, 2016, and had participants with African, Asian, Caribbean, Latino, and Middle Eastern backgrounds.
NAYLC participants engaged in workshops on:
immigration history and law;
financial literacy;
college access;
social justice;
civic engagement;
and public speaking.
They also engaged in volunteer service, including:
community outreach for naturalization programs such as the Mayor's Office for Immigrant Affairs' NYCitizenship program;
logistics at mass assistance immigrant service events such as the NYIC's Key to the City program;
and general assistance at the NYIC's office.
Meet some of the amazing young people who participated in the program: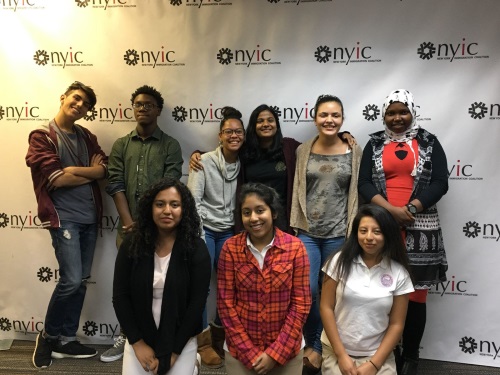 Some of the New American Youth Leadership Corps' second cohort members on their graduation day, September 26, 2016. (top left to right) Rico, Joel, Awilda, Shamsun, Nicole, and Habibatou; (bottom left to right) Joselin, Netanya, and Yessenia.
Here's what NYIC's Executive Director Steven Choi had to say about the program: "The NYIC recognizes the tremendous strength of New York's immigrant youth and is proud to be graduating a second class of young people through the NAYLC program. Thanks to the support of City Community Development we've have been able to develop a program to support immigrant youth in building community with each other outside of their schools and neighborhoods, and developing the foundational knowledge and skills to support them in their self-empowerment, community leadership and advocacy. We will continue to build this program and explore new ways for it to foster immigrant youth leadership in New York."
None of this would have been possible without the support of Citi Community Development. Eileen Auld, Director of Citi Community Development's New York Tri State Market said, "At Citi, we are proud to collaborate with the New York Immigration Coalition to provide immigrant youth with critical information about immigrant integration as well as skills to build a strong financial identity."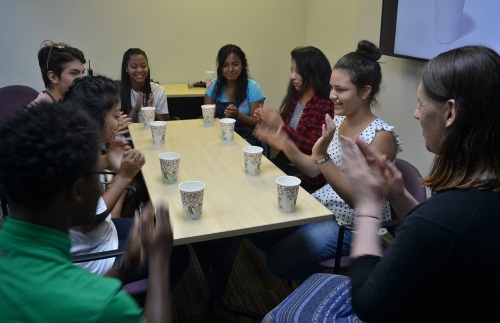 [Photos Above] NAYLC youth at an NYIC-facilitated session.
Check out what some of the youth had to say about the New American Youth Leadership Corps program:
"The best part of this program was interacting with people who have experienced the same or similar things once entering this country. I liked that we learned about real world activities such as finance. I also enjoyed being able to face my fears of public speaking."
- Awilda, 16 years old
"The best part about being in the NYIC's NAYLC program was that I got to know more people who are now my friends. Not only did I meet them but I got to learn a lot about how immigration works, which is an important topic for me."
- Joselin, 16 years old
"My experience in this program was great! I got to know awesome people, both the staff and the participants. This program helped me a lot with opening myself up to others."
- Nicole, 16 years old
The NYIC is planning to launch the third cohort of the NAYLC program in January. For that cohort, participants will be trained and supported in facilitating peer education workshops for other immigrant youth and community members, in addition to planning and running an immigrant youth conference. The application for that cohort will be released in November. Stay tuned for more details.
In the meantime, we need your support to help strengthen the program for the future leaders of New York, one immigrant youth at a time!
To donate to support NAYLC, click HERE.

Thank you!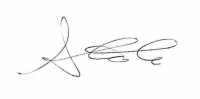 Steven Choi
Executive Director
New York Immigration Coalition
The NAYLC program was supported with funding from Citi Community Development.
The New York Immigration Coalition is an umbrella policy and advocacy organization for nearly 200 groups in New York State that work with immigrants and refugees. The NYIC aims to achieve a fairer and more just society that values the contributions of immigrants and extends opportunity to all by promoting immigrants' full civic participation, fostering their leadership, and providing a unified voice and a vehicle for collective action for New York's diverse immigrant communities.