NYIC Member Highlight:
Arab American Association of New York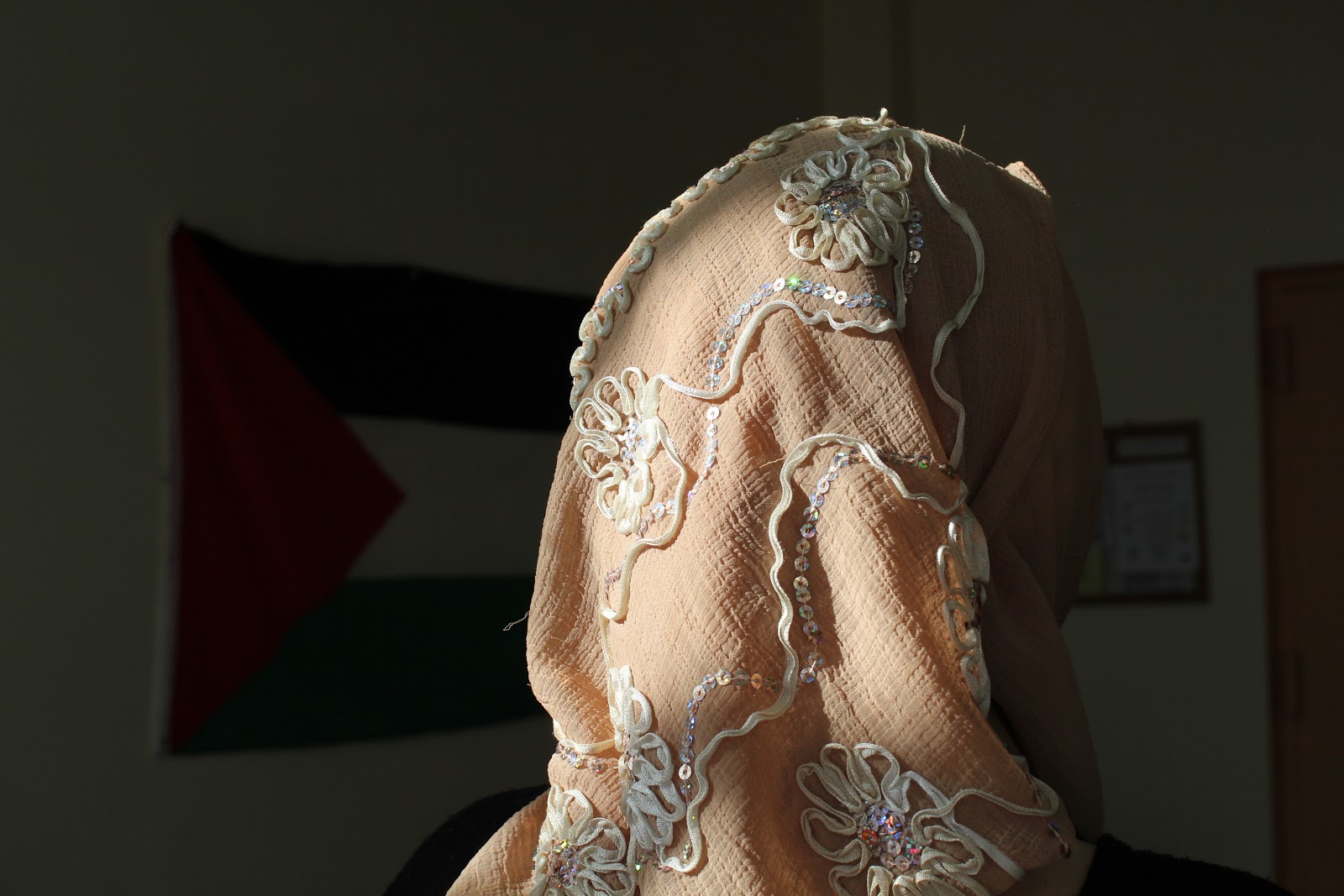 On a cold, blustery November morning, 140 women from gathered at the Beit al-Maqdis Islamic Center in Brooklyn to air their grievances. Since the presidential election, the Arab American community in South Brooklyn has experienced increased harassment and hostility from anti-Muslim and Islamophobic community members. Somia El-Rowmeim, an Advocacy instructor & Adult Education Organizer at the Arab American Association of New York, organized the women's open mic with The Arab Women Activists and Leaders (AWAL) Program. The event was designed to help the community express their fears and emotions, and build community, in the wake of the election and current violence in their home countries.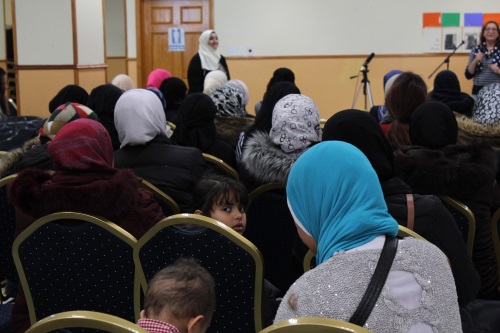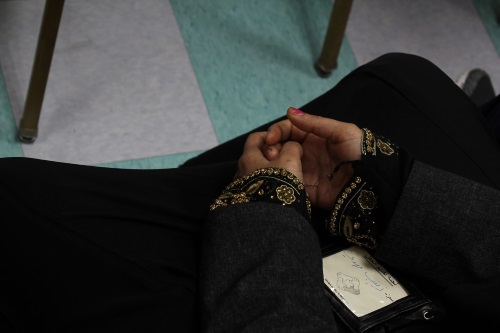 As the women settled in, the space began to come alive. The women were mostly students at the Arab American Association of New York's (AAANY)ESOL class. AAANY offers a range of educational programs and social services to Arab Americans in Bay Ridge and the surrounding Brooklyn communities. Many of its ESOL classes are women-only, to accommodate religious beliefs and create a safe space for members. As Aber Kawas, Youth Lead Organizer, said, "We accommodate spaces for our clients and our students. If they want to be around women, if we have to make an all-women space, [if there's a] way that they want to dress - whatever! We're very supportive of their beliefs."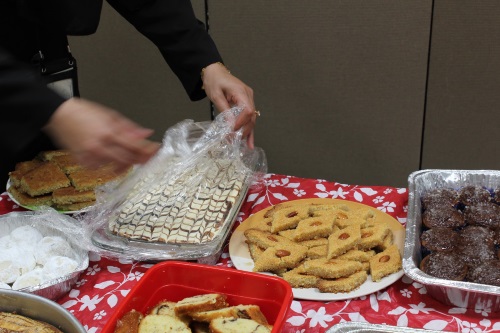 Class members prepared traditional Yemeni and middle eastern foods for the event.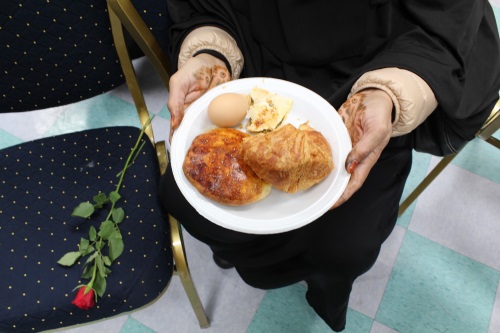 A class member who performed at the event, celebrating with food and a rose
The women chatted, setting up a food table heavy with desserts, stuffed grape leaves, and pastries. When the event began, various presenters stood in the front of the room at a single microphone. Although they mainly spoke in Arabic, their emotions and energy were understood by non-Arabic speakers as well. They discussed their fears and experiences of persecution, but also their memories of home, the pain of immigration, and their hopes for the future. One woman spoke in a monologue that went on longer than most. She began calmly, but by the end of her speech she, and many others in the room, were sobbing. I asked the woman next to me what had moved her; she replied, "She is telling us about leaving her mother."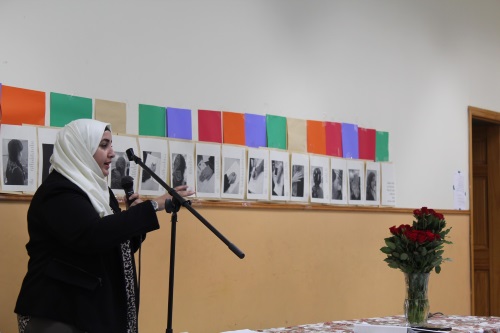 Somia El-Rowmeim
El-Rowmeim, who organized the open mic, put the event together so that the women could learn from each other's stories; "We should hear each other, support each other, empower each other, and heal each other." AAANY provides the space for community empowerment and healing to begin.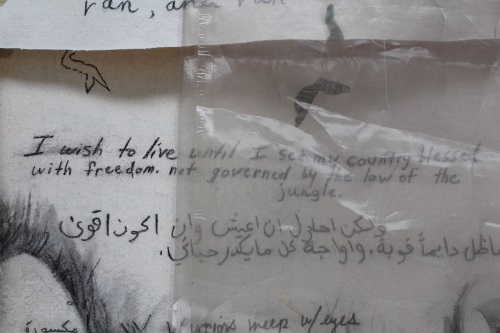 From The Khayamiya Monument by Egyptian artist Katherine Toukhy
In collaboration with AAANY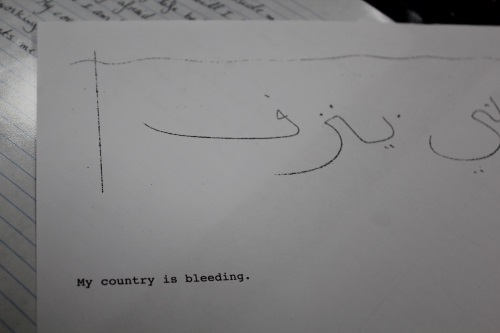 Poetry, written by ESOL class members
with artist Katherine Toukhy,
that became part of the Khayamiya Monument
Arab American Association of New York (AAANY) was founded in 2001, soon after 9/11. The Arab American community in New York City, as well as the organization, was transformed in the aftermath of the terrorist attacks. According to Kawas, the AAANY began as a doctor's office. The doctor realized that women were coming in without insurance and needed social services. AAANY formed to address this need; however, with the impact of September 11th, the organization also developed an advocacy arm. AAANY began taking on deportation cases, hate crime cases, harassment cases, and job loss cases, among others. They also dealt with cases of dozens of Muslim men going missing or being detained through the "special registration" program or National Security Entry-Exit Registration System (NSEERS) that was put in place after 9/11.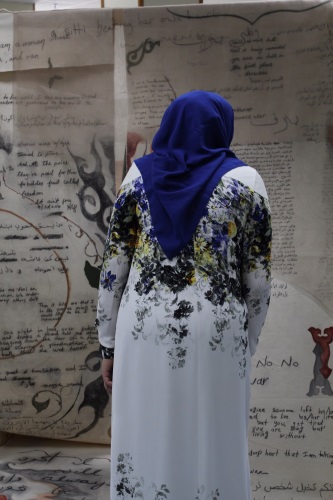 After September 11th, AAANY addressed NYPD surveillance of Muslim communities. When I asked Kawas if AAANY was being surveilled, she laughed:
"They were surveilling everyone! In 2011, the AP released reports that showed that there was a demographics unit for surveillance, [including] informants, rakers... people who were placed into mosques, people from the community who were undercover officers [at] mosques, clubs on campus, restaurants, hangouts. It was massive... it was extremely unconstitutional and discriminatory." The AAANY was directly targeted. In 2013, the AP reported on documents revealing that attempts were made to infiltrate the AAANY's Board of Directors.
In response to harassment of Muslims and Arab Americans in the aftermath of 9/11 and today, AAANY helped pass the Community Safety Act as a member of the Muslim American Civil Liberties Union. The act created an Inspector General position to oversee the NYPD. AAANY is also a member of Communities United for Police Reform, a coalition which addresses biased policing across New York City communities.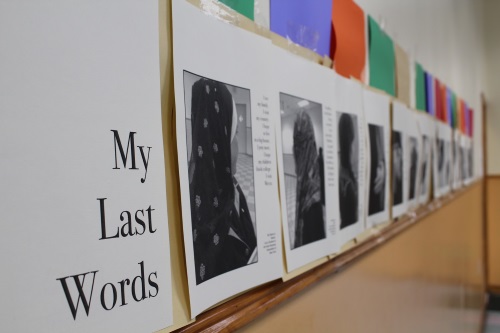 An art project at the mosque asking women to say what they would do if today was their last day on earth, in just 25 words.
Arab Americans face the current anti-immigrant atmosphere, like all other immigrants, as well as racially focused Islamophobia. The challenges of organizing in this atmosphere are immense. Kawas states that capacity is an ongoing struggle. In addition, the community faces the struggles of living in New York City - issues with housing, money, and education. "There is so much happening right now, and there's not enough resources. We could be on 50 coalitions, when it comes to everything our community needs… As much as we try to maintain and build dignity for our community, the political climate grows more and more against us. There's always more work to do, and we don't know where the end is or how to see an end to it."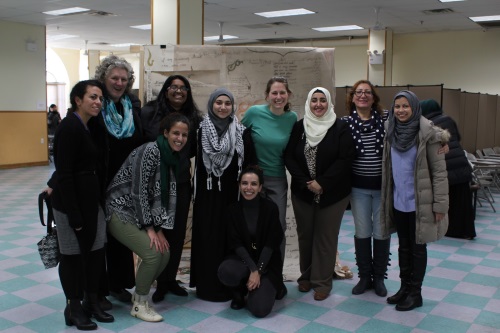 AAANY staff at the open mic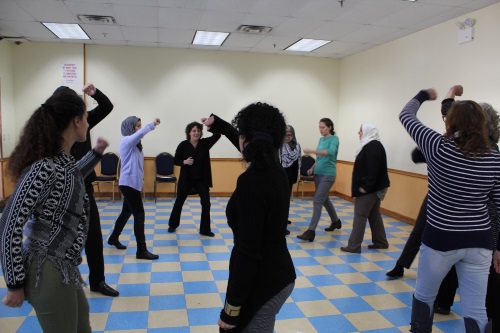 AAANY staff members take part in a self-defense class
Although the situation is dire, it is not insurmountable. Organizers and community members at AAANY are buoyed by their community. Faith is also source of strength for AAANY. Its community members are passionate about their beliefs, and find that spirituality and religion have provided support in the face of seemingly insurmountable obstacles. For Kawas, supporting members often involves theology:
"A lot of times the work that we do involves a lot of support, it involves understanding that we're struggling. [But] Faith lessons have the hope that you need when you're up against everything - the worst tyrants, oppressors. Prophetic stories are great for people because they're about struggling, being in a society or community that is divided. There are so many lessons that we allow people to bring into this space."
After the open mic, the women handed out roses to participants, then set upon dividing up the food and settling into small groups to chat. While the testimonials were filled with stories of darkness and oppression, the release of that negative energy was followed by loving community and togetherness. The resilience of community and united friends and family is carrying them forward.
Arab American Association of New York has been a member of New York Immigration Coalition since 2001. AAANY's executive director, Linda Sarsour, serves on NYIC's board.