New York's Organizations, Immigrants, and Elected Officials Send Clear Message of Defiance to President-Elect
(New York, NY) Flanked by elected officials, community based organizations and immigrants and refugees, the Coalition announced today "The March for Immigrant NY," happening this Sunday, December 18, International Migrants Day. The "March for Immigrant NY" will travel from the United Nations to Trump Tower to take our message of resilience and hope directly to the president-elect.
NYIC executive director Steven Choi said, "We refuse to sit silently by as President-Elect Trump and his Cabinet threaten our families, our neighbors, our friends. This rally and march is just the first step on a long road to demonstrate to Trump and his his new administration that New York immigrant communities are here to stay and that all New Yorkers will united to protect one another. The next four years will require a resiliency of spirit and a steely determination to fight for the future. Immigrant New York is up to the challenge."Details about Sunday's "March for Immigrant NY":
Where: Dag Hammarskjold Plaza in Manhattan (E. 47 St. bet. 1 Ave. and 2 Ave)
When: Sunday, December 18 (Rally starts 1pm sharp; March starts at 2pm)
For Press: RSVP to Thanu Yakupitiyage at tyaku@nyic.org; a press riser and mult box will be available for press at the rally.
Congresswoman Nydia Velazquez, State Assemblyman Francisco Moya, City Council Member Carlos Menchaca, and incoming elected officials, State Senator-Elect Marisol Alcantara and State Assembly Members-elect Yuh-Line Niou and Carmen De La Rosa stood with the NYIC to reaffirm their commitment to New York's 4 million immigrants and call on New Yorkers to unite to support and protect all of New York's communities.
Congresswoman Nydia Velazquez (D-NY) commented, "'The March for Immigrant NY' is sponsored by over 60 immigrant serving organizations, unions, elected officials and community allies. Starting in front of the United Nations--to honor the celebration of International Migrants Day--the March will feature speakers who stand to suffer greatly at the hands of a draconian Trump administration, including a DACA recipient, a refugee and a parent at threat for deportation."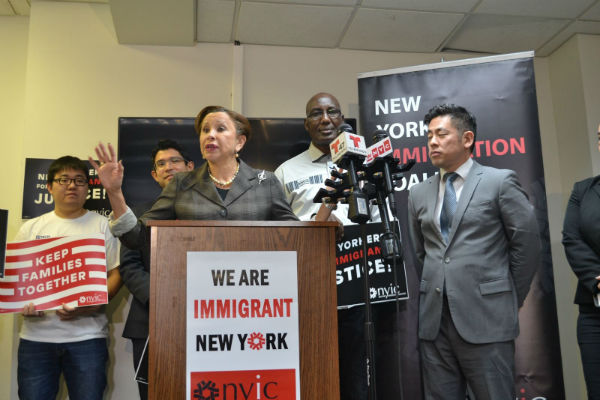 Congresswoman Nydia Velazquez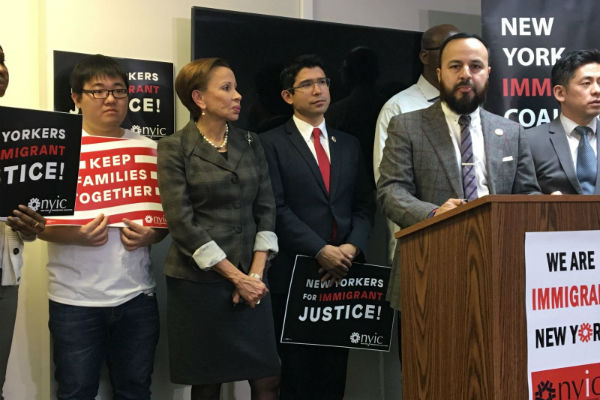 State Assembly Member Francisco Moya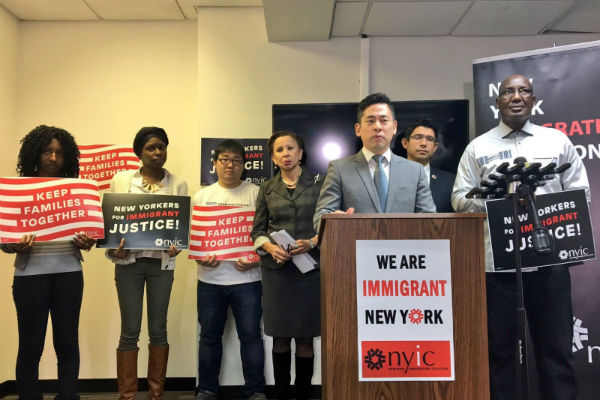 NYIC executive director Steven Choi flanked by NYIC's member groups and Congresswoman Nydia Velazquez and Council Member Carlos Menchaca.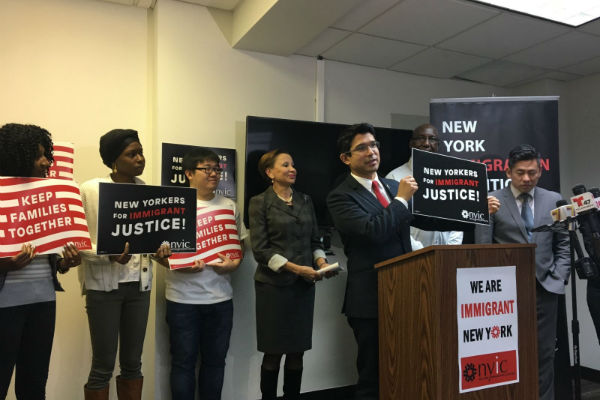 Council Member Carlos Menchaca holds up a "New Yorkers for Immigrant Justice" sign and calls for New Yorkers to join the March for Immigrant NY on Sunday.
In statements of solidarity, elected officials from across New York State expressed their support.
Endorsing the march, Senator Kirsten Gillibrand (D-NY), stated, "I'm honored to represent a state that has always been a home to immigrants from around the world. Our diversity is what makes New York so strong and vibrant, and after years of progress, we can't suddenly start moving backwards from that. I will continue to stand with New York's immigrant families, and I will do everything in my power as a Senator to fight any efforts to undermine immigrants' rights and safety."
Representative Kathleen Rice (D-NY) of New York's 4th Congressional District in Long Island also showed her support, stating, "On Sunday, New Yorkers of different colors and creeds and from all walks of life will come together to show that we value immigrants in our communities, we're grateful to live in a state and a country that values immigrants, and we're committed to protecting all those who are living in fear right now of what the next administration's policies will mean for their families. Thousands of young people in my district have stepped up to enroll in DACA, and thousands more men and women on Long Island and throughout the state work hard, follow the rules, and contribute to our economy and our society, and I'm going to fight to make sure that they aren't taken from their families and forced out of the country they call home."
Assemblyman Ron Kim said, "I thank the New York Immigration Coalition for organizing this event, and stand with my fellow elected officials in opposing all forms of hatred and bigotry. Our country was founded and built by immigrants, and it remains exceptional in part because we are tolerant and welcoming to all, regardless of their race or religion. The stated positions and likely policies of the president-elect puts millions of Muslim Americans and undocumented immigrants at risk. Now more than ever, New Yorkers must join together in making clear that we will protect any children, families, and communities targeted by the new administration."
Assemblywoman Michaelle Solages of Long Island said, "Let me be clear, hate crimes and racial based-harassment will not be tolerated. Hateful rhetoric does not reflect the values of our nation. I urge residents who witness or are subjected to these kinds of threats, harassment, and violence to notify police as well as to file a civil-rights complaint with the New York State Attorney General's Office. Together we will ensure that all individuals are free from harassment regardless of race, religion, sexual orientation or identity, or immigration status."
New York City Comptroller Scott M. Stringer said, "In the most diverse city on earth, we have to stand together to protect inclusion. Bigoted rhetoric, xenophobia, hate -- none of it has a place in our city or our country. It's not who we are. We are not a nation that turns people away based on the country they're from or the language they speak. We won't stray one iota from our values, and we cannot allow the President-elect to turn back the clock. That's why standing up for progress—together, at this moment—is so critical."
New York City Council Member Ferreras-Copeland, Finance Committee Chair said, "New York City is great because of the contributions of its immigrant community, and we will not allow them to be attacked. My Council colleagues and I are committed to working with our partners at NYIC, to protecting immigrant rights and continuing to fund the services immigrants need to thrive as New Yorkers."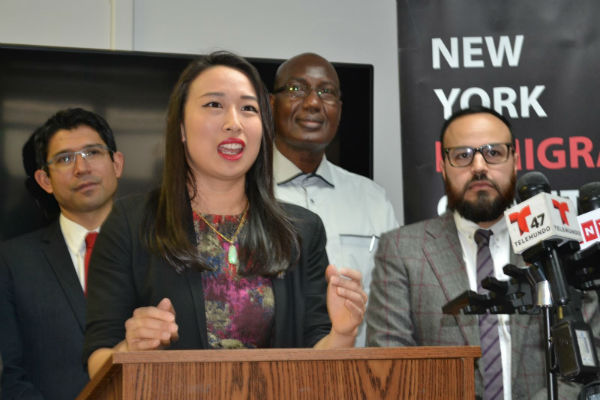 State Assembly Member-elect Yuh-Line Niou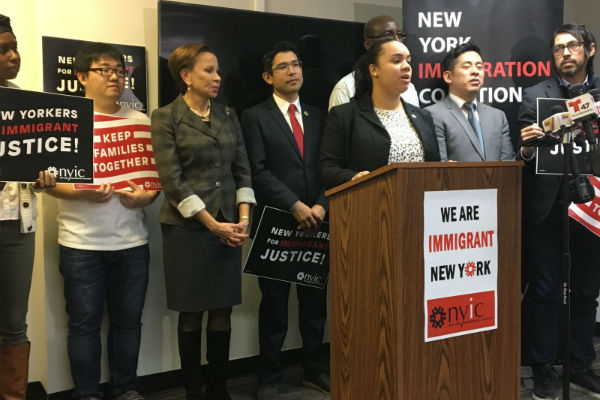 State Assembly Member-elect Carmen De La Rosa
New York Immigration Coalition's member organizations also discussed why they are mobilizing their communities to march on Sunday, on the globally celebrated "International Migrants Day."
Aber Kawas, community organizer, Arab American Association of New York speaks about standing in solidarity with Muslim communities at The March for Immigrant NY.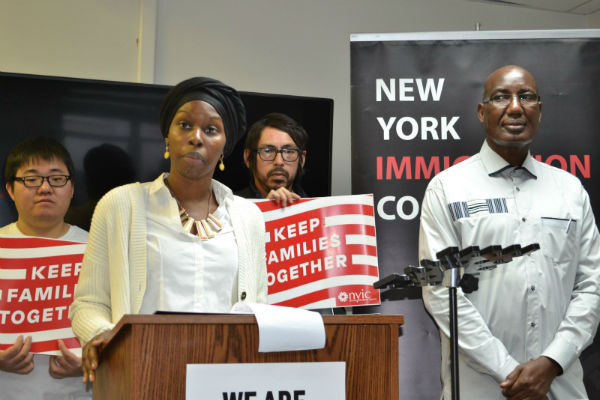 Fatoumata Waggeh, civic organizer, African Communities Together, calls for unity for immigrants.
Amaha Kassa, executive director of African Communities Together said, "We stand with the New York Immigration Coalition and all our city and state's immigrants. African communities make up twenty percent of New York City's immigrants - they include undocumented individuals, Muslims, and refugees, all of whom have been threatened and scapegoated by President-elect Donald Trump. We call on all New Yorkers to join the pledge to stand by our city's immigrants and help protect them from harm. Together, we are mighty."
Javier Ramirez Baron, executive director of Cabrini Immigrant Services said, "The Cabrini Immigrant Services community is made up of immigrant families who are now terrified of what's to come because of the anti-immigrant hate speech perpetuated by the President-elect and his administration. New York and communities across the country deserve better than this. This is why we are marching on Sunday in unity with all New Yorkers, because immigrants are part of the fabric of this nation and together we make America strong."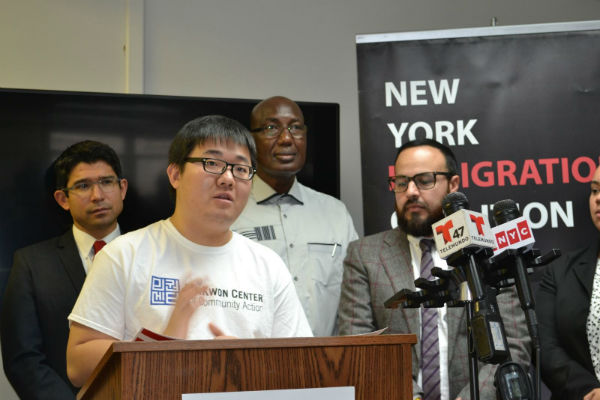 Jung Rae Jang, organizer with Minkwon Center for Community Action and DACA recipient speaks about the importance of standing with immigrants on Sunday, Dec 18th, International Migrants Day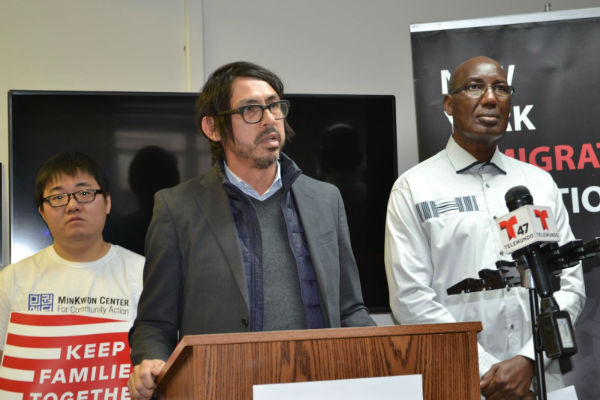 Javier Baron, executive director of Cabrini Immigrant Services speaks of the fear in his community, calls on all New Yorkers to stand with immigrants in solidarity.
James Hong, Interim Executive Director of Minkwon Center for Community Action said, "Immigrants to the United States, including Korean Americans, have aspired to, and sacrificed much, in making our country the great nation it is today. And no matter what Mr. Trump says, immigrants are proud to be part of a diverse America, and we claim our place in it. The MinKwon Center for Community Action has fought for our immigrant communities for many years. Since 2012, we have assisted with over 1,000 DACA applications, shielding hundreds of DREAMers from the threat of deportation. Today on International Migrants' Day we join our sisters and brothers in condemning the rhetoric of hate, anti-Muslim aggression, and in calling for immigration policies that will unite, and not divide our country.
NYIC's Steve Choi continued, "We have four simple demands for the president-elect: defend the Deferred Action for Childhood Arrivals (DACA) program, which provides 50,000 New Yorkers work permits and other essential resources, protect immigrant communities from deportation, prevent the creation of a Muslim registry and support critical refugee resettlement programs. This is what we are marching for at the "March for Immigrant New York" on Sunday and we call on all New Yorkers to join us."
# # #
The New York Immigration Coalition (NYIC) is an umbrella policy and advocacy organization for nearly 200 groups in New York State that work with immigrants and refugees. The NYIC aims to achieve a fairer and more just society that values the contributions of immigrants and extends opportunity to all by promoting immigrants' full civic participation, fostering their leadership, and providing a unified voice and a vehicle for collective action for New York's diverse immigrant communities.