A Month before the Inauguration of President-Elect Donald Trump, New Yorkers, including Elected Officials, Advocates, and Community Members, Pledge to Protect Immigrants from Anti-Immigrant Policies
On Sunday, December 18th, withstanding rain, thousands of New Yorkers came out on globally recognized International Migrants Day to attend "The March for Immigrant New York". Organized by the New York Immigration Coalition and sponsored by 85 organizations representing immigrant rights and advocacy, legal services, labor, faith, civil rights, LGBTQI, women's rights, and anti-violence groups, today's march brought together New Yorkers to send a clear message to President-elect Trump and his administration that immigrant communities are here to stay. Rally participants pledged to help protect and defend immigrant New Yorkers, and help fight back against hate and anti-immigrant policies.
The "March for Immigrant NY" travelled from the Dag Hammerskjold Plaza near the United Nations to Trump Tower to take this message of resilience and hope directly to the president-elect. Making it's way up 5th avenue, passerbys joined the march, adding to the thousands who pledged to protect "Immigrant New York." The hashtag #ImmigrantNY was the number 1 trending hashtag on twitter nationwide.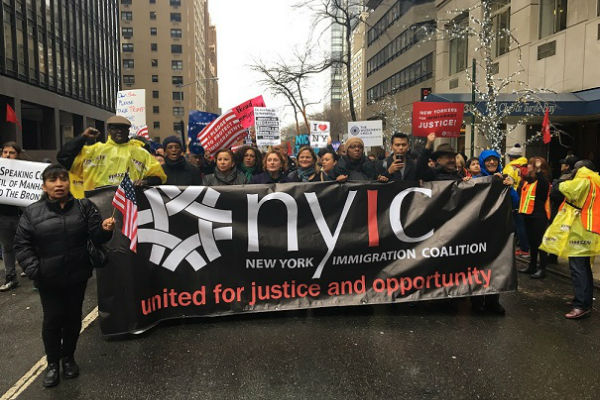 [Photo Above] Congresswoman Nydia Velazquez, City Council Speaker Melissa Mark Viverito, Public Advocate Letitia James, hold the New York Immigration Coalition banner, along with NYIC board, members, and staff at The March for Immigrant NY.
At the rally before the march, Steven Choi, executive director of New York Immigration Coalition said, "We have four simple demands for the president-elect: defend the Deferred Action for Childhood Arrivals (DACA) program, which provides 50,000 New Yorkers work permits and other essential resources, protect immigrant communities from deportation, prevent the creation of a Muslim registry and support critical refugee resettlement programs. This is what we are marching for at the "March for Immigrant New York" today and we call on all New Yorkers to join us in our pledge to protect our neighbors, family members, and friends."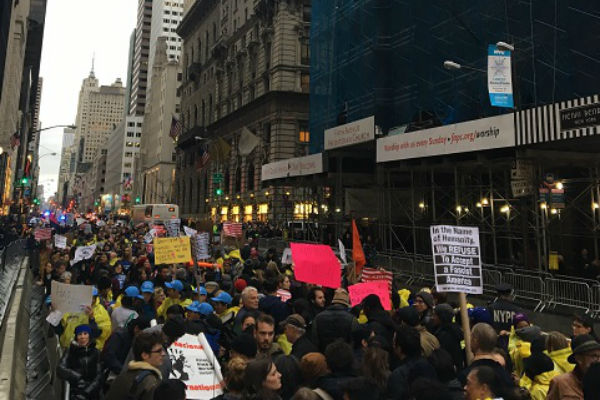 New York City elected officials, Congresswoman Nydia Velazquez, City Council Speaker Melissa Mark-Viverito, Public Advocate Letitia James, State Senator-elect Marisol Alcantara, Assembly Member Jo Anne Simone, Assembly Member-elect Carmen De La Rosa and Council Members Carlos Menchaca and Ydanis Rodriguez joined the rally, pledging their support for New York's immigrants, many who feel tremendous fear and uncertainty.
"New York is and always will be a sanctuary city," said New York City Council Speaker Melissa Mark-Viverito. "On International Migrants Day, I am proud to stand in solidarity with New Yorkers from across the five boroughs to send a clear message that together, we will continue to stand up and fight for our immigrant communities."
"New York City will always stand behind our immigrants," said Public Advocate Letitia James. "With the recent spike in acts of hate against immigrant populations, it is more critical than ever to defend the rights of our immigrant brothers and sisters and affirm their vital place in our City. As New Yorkers, we will never waiver on our core values and principles and we will never allow anyone to normalize hate."
Before marching, DACA recipients, members of the Muslim community, and immigrants at risk of deportation, faith leaders, and allies spoke, sharing their stories, and calling on New Yorkers regardless of immigration status to stand together.
"As an undocumented mother to a U.S citizen child, I am in fear and concern about what's to come but I know that I must keep working hard to keep my family together," said Sara Martinez, an Ecuadorian immigrant from Brooklyn. "Immigrants like me are only helping to improve our communities and neighborhoods; we work hard to support our families, and we do not deserve to be treated as scapegoats. I call on all New Yorkers to continue to support immigrants who truly do help make America great."
Jung Rae Jang, a DACA recipient and organizer at MinKwon Center for Community Action said, "As an undocumented Korean-American, I've experienced firsthand how DACA change people's lives. DACA opened doors for me where I learned and grew as a person and also as a young professional. It is my greatest desire to see not only DACA is protected, but to see more of our communities benefit from it, whether it be through current DACA program or expansion of it. I know that immigrant communities are facing tough fight in upcoming months, but I believe that through activism and vigilance, we will protect each other and win greater justice for immigrants."
Alexis Pampillon, member of Make the Road New York, said, "As a queer Latinx New Yorker, I march today to say that Donald Trump does not represent us, and we will continue standing up to an incoming administration of hate. His election has already wreaked havoc on our communities--with an increase in hate violence against us. But we will not be intimidated: we are here to stay. "
Aber Kawas, community organizer for Arab American Association of New York said, "I myself am a proud New Yorker, born and raised, yet my family has been subject to the harsh and painful reality of being targeted. My father was deported when I was 16 years due to Islamaphobic and anti-immigrant legislation such as the post-9/11 "Muslim Registry" known as NSEERS. My father, much like many others, was separated from his family for cooperating with this program in an era of increased surveillance and policing of the Muslim community. We cannot stand by and let this type of treatment towards Muslims and other immigrants continue to happen. In addition, the Arab and Muslim communities of New York have been the target of hate crimes and vitriolic language even more so since the election of President-elect Donald Trump; we need all New Yorkers to stand up against this injustice."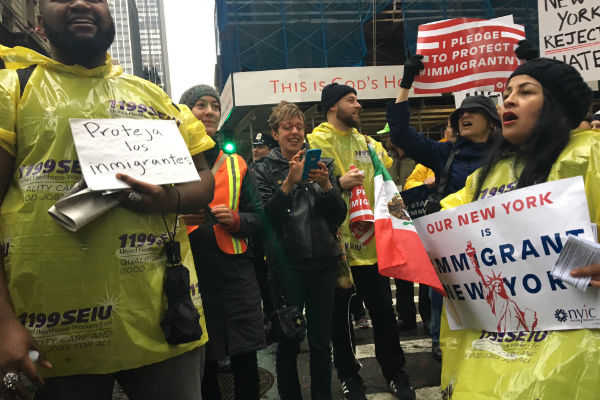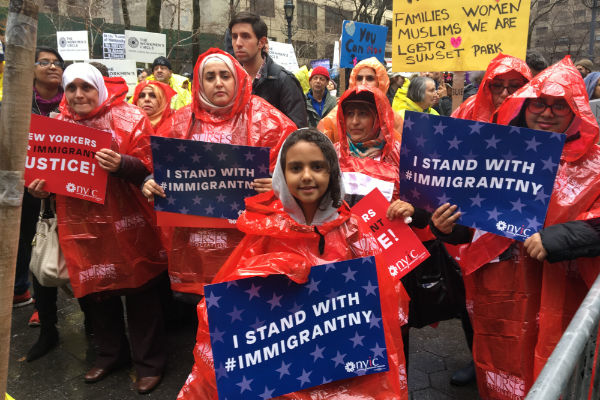 Albert Saint Jean, New York City Organizing Fellow at Black Alliance for Just Immigration said, "The biggest misconception about the black community is that we have no stake in the immigrant rights debate and that we are a monolithic group. The fate of Blacks and Latinos are inextricably linked, as not only are many of us also immigrants, but we are the two most targeted groups for the prison industrial complex."
Afua Atta-Mensah- Executive Director of Community Voices Heard (CVH) said, "Community Voices Heard members stand against Trump's xenophobic racist attacks on immigrant communities. Our members span throughout the great state of New York. We are Black, Latino, Asian and White. We are immigrants, we are Christian, Muslim and Jews. Whether agents of the state are used to forcibly deport our neighbors--tearing apart families; or are strangling Eric Garner savagely taking away his breath, this is part of the same system that devalues immigrant communities, low-income communities, and communities of color. An attack on one is an attack on us all. We will not be silent!"
Minister Patricia Malcolm of Churches United to Save and Heal (CUSH) and the Interfaith Network for Immigration Reform stated, "We are at a pivotal time in the history of our country, and we fear for our freedom in this nation of immigrants. Now more than ever, we must oppose the separation of families, support DACA, and fight to ensure that all children have the opportunity for a bright future. We must condemn the very thought of a Muslim registry, and promote compassion for refugees. This is a moment when, as religious leaders, we must stand up for what is right and just and send a strong message to the new administration that a betrayal of our values will not be tolerated.
NYIC executive director Steven Choi continued, "We refuse to sit silently by as President-Elect Trump and his Cabinet threaten our families, our neighbors, our friends. This rally and march is just the first step on a long road to demonstrate to Trump and his his new administration that New York immigrant communities are here to stay and that all New Yorkers will united to protect one another. The next four years will require a resiliency of spirit and a steely determination to fight for the future. Immigrant New York is up to the challenge."
SPONSORS: For full list of sponsors, click HERE.
For Photos, contact Thanu Yakupitiyage at tyaku@nyic.org. Follow the march with hashtag #ImmigrantNY via @thenyic and on New York Immigration Coalition's facebook page.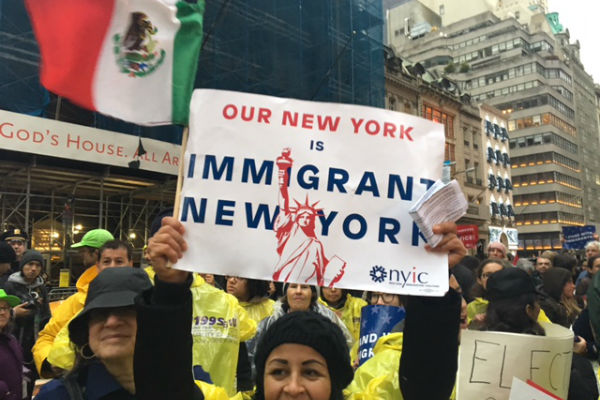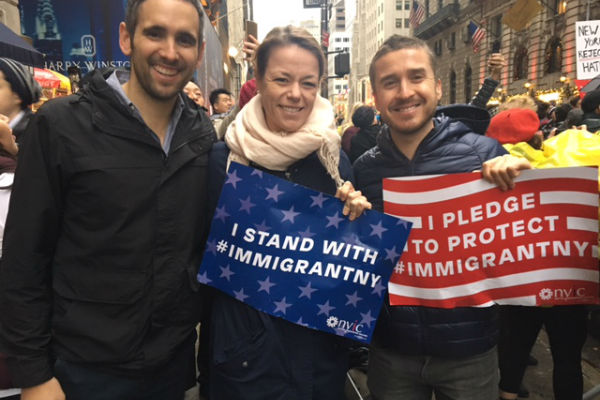 ###
The New York Immigration Coalition (NYIC) is an umbrella policy and advocacy organization for nearly 200 groups in New York State that work with immigrants and refugees. The NYIC aims to achieve a fairer and more just society that values the contributions of immigrants and extends opportunity to all by promoting immigrants' full civic participation, fostering their leadership, and providing a unified voice and a vehicle for collective action for New York's diverse immigrant communities.