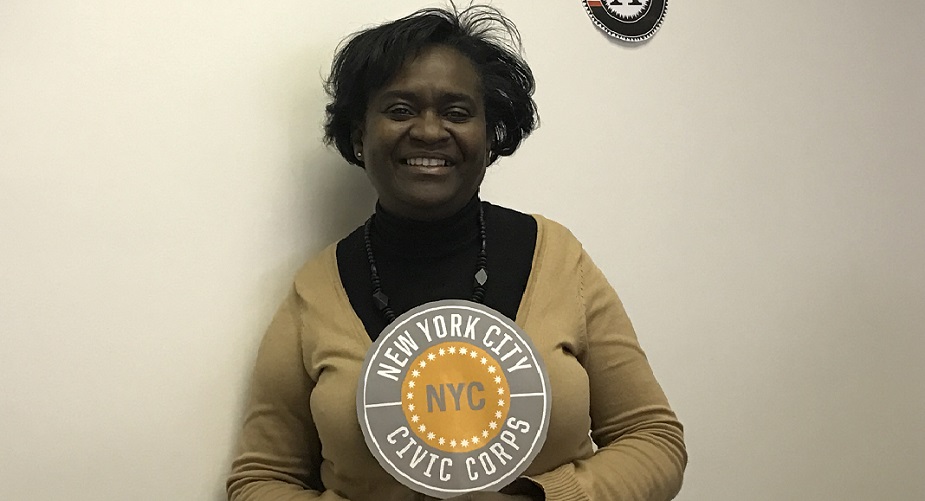 Civic Corps Member Wendy Odle-Harvey
By Wendy Odle-Harvey
Let me start by saying, "awesome","amazing","inspiring". Here are some of the reasons why serving as an AmeriCorps member at the New York Immigration Coalition (NYIC) is all that and more to me.
Whenever I used to look on the USA.gov website for Federal jobs, I would notice that many of the positions listed asked if you served in Americorps. I would ask myself, "AmeriCorps, what is that???" Well, I can now check that box and proudly say that I have served as an Americorps member.
My AmeriCorps service is made possible through NYC Service's Civic Corps program. AmeriCorps members serving through the Civic Corps program focus on volunteer management projects.
During September of 2017, I had my first day of Civic Corps orientation. It was the start of a new chapter in my life. The fact that I was placed to serve with the NYIC was an answer to my prayers. As an immigrant myself, now a naturalized U.S citizen, I have a strong passion for immigration issues. I wanted to have a career as an immigration lawyer but my path took a different turn and I ended up working as an Import Specialist/Customs Broker. In that role, I was helping products and commodities. Now I help people and can actually fulfill my desire to support immigrants and their families. I have the chance to pay it forward.
As an NYIC Civic Corps member, I am responsible for volunteer recruitment, orientation, placement and evaluation. The position has given me the chance to met some of New York City's most magnificent gems. Individuals who want to see immigrants given the opportunity to fulfill their dreams, to increase their access to economic opportunity, and to have a better life for themselves and their families. These gems are eager to volunteer in areas of outreach, logistics, interpretation, translation, photography, social media, graphic design, and more! They jump right into service and become extremely active. I have met volunteers who faithfully go into different neighbourhoods each month to alert the community about upcoming events and services that the NYIC coordinates. They will do whatever they can to get the word out.
The staff of the NYIC. Wow. What a fantastic group of people. Led by Steve Choi, Esq, the Executive Director. My team, the Membership and Capacity Building team, led by Karen Yau, Esq. My # 1, my supervisor Kiwi Grady, who saw that I would be a great fit for the organization and allowed me to serve at the NYIC. I have learned and experienced so much during my time here. I have been given an opportunity to develop my professional skills and talent. I cannot say thank you enough.
Finally, the team that runs the Civic Corps program at NYC Service - Lourdes Vazquez, Ruel Minott and Aaron Miner. The support they provide to their Americorp members is exceptional. The training and career development sessions that are conducted for us enhances our capabilities and empowers us to be great in whatever we do.
I have always loved to serve my community. I have volunteered in numerous organizations around the city. I have served in my church in numerous areas and for a number of years. I serve because I want to help lift up and encourage others in whatever way possible.
Serving as a Civic Corps member at the NYIC has been one of the best periods of my life and I am excited to see where this experience will lead me.