Cabrini Immigrant Services is located in the heart of the Lower East Side, a bastion of immigrant New York that has transformed repeatedly with each new population wave. While gentrification is changing the community, Cabrini Immigrant Services continues to work with the Latino, Chinese, African, Middle Eastern, and other communities that have made the Lower East Side their home.
Cabrini was founded in the neighborhood in 1999 with support from the Missionary Sisters of the Sacred Heart of Jesus, who were founded by Mother Cabrini in 1900. Mother Cabrini, an Italian-American immigrant, is the patron saint of immigrants for Catholics, and the first naturalized American to be declared a saint by the Catholic Church. In 1999, the Sisters realized that the Spanish-speaking population in the neighborhood was in need of services, and formed Cabrini to address the need.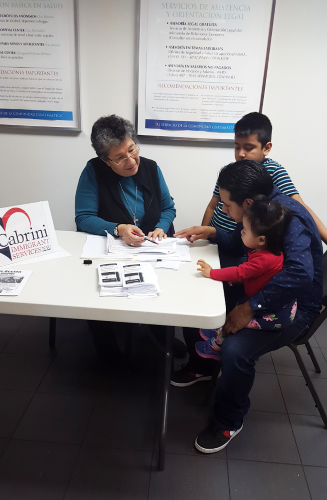 Families receiving services at Cabrini
The organization started first with English as a Second Language (ESL) classes, but then expanded when the Sisters realized that the students were in need of social services. The program added case management and helped immigrants with basic integration needs, from enrolling their children in school to negotiations with their landlords. As time went on, Cabrini staff realized that there was also a need for legal services, so the organizations became accredited to provide legal services. In 2005 and 2006, civic engagement and civic participation concerns led Cabrini to join the Justice For Immigrants campaign, run by the U.S. Conference of Catholic Bishops.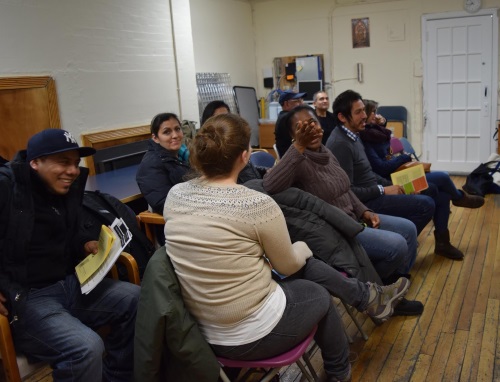 A community client meeting
Today, the organization offers a number of programs. Cabrini has social services for immigrants, including Crisis Intervention services that address mental health, and immigration legal services, including Family Petitions and other issues. The Cabrini College Readiness program helps college-bound students navigate issues like lack of documentation, monetary issues, and unfamiliarity with the application process. Cabrini's Food Pantry is one of the largest on the Lower East Side, serving over 700 families monthly and screening clients for SNAP (Supplementary Nutritional Assistance Program) eligibility.
Cabrini's focus on immigration legal services, providing nutritious food, and education is strategic; these are some of the most important issues facing immigrant communities in the Lower East Side. However, they also note that structural conditions influence the needs of clients. Cabrini uses comprehensive case management in order to refer clients to outside agencies when they have issues that Cabrini can't address.
Javier Ramirez Baron, Executive Director of Cabrini Immigrant Services said, "Everything is connected. If people had decent jobs that paid well, then they could pay a lawyer. They are working hard but they are not making enough money to pay for representation in court. However, even with the money, it's difficult to find someone you can trust. Notario fraud is still a huge issue, and lawyers sometimes don't do the best job... Financial services can be an issue, as well as displacement and gentrification. Housing - many live in overcrowded conditions. At Cabrini we focus on education, legal issues, and food insecurity, but there are many, many issues. That's why we do case management - we can identify those needs and refer them to agencies that can help."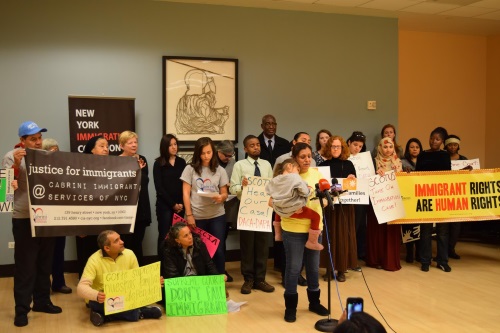 Clients and affected community speak at a Justice for Immigrants campaign event
Cabrini has been a long time member of the New York Immigration Coalition, helping to advocate for immigrants by educating the public, creating political power for positive immigration reform, advocating for legal and administrative reform based on principles set forth by the bishops, and organizing Catholic networks to assist immigrants.
With NYIC, Cabrini Immigrant Services been active on local and national immigrant rights campaigns, as well as lobby days in Albany. In addition, they've hosted educational workshops to empower immigrants about housing, rights, and other issues, and collected petition signatures to fight stop and frisk, support the DREAM act, and fight for immigration reform.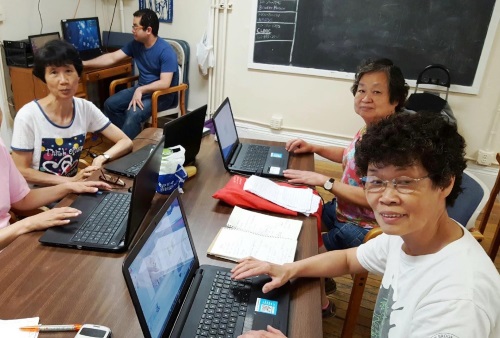 Cabrini provides services for elders, including computer classes!
Cabrini also offers less formal support to families, including activities, community building events, and more. Director Ramirez Baron feels that providing spaces for immigrant families to connect is vital:
"We have a family program where we do cultural events, family trips, we even had a Christmas celebration. The idea is giving space for the immigrant families to build community. How do you build community? Hanging out together! At these kind of events, there's no instructor, no directions. We put the families together and see how they create connections together. It's very organic. We'll bring them to a park and say, 'Enjoy! If you need something, we are here.' We might have some basic activities, but we provide independence for the families as well."
Cabrini has a large, loyal client base. Ramirez Baron noted that as clients have been displaced from the Lower East Side due to gentrification, they move to Yonkers, Staten Island, and other areas that are still relatively affordable. However, year after year, they continue to return to Cabrini, as they have built trust and connections with the organization.
Clients trust and remain with Cabrini because of the vital services they provide, the community they create, and the relationships they sustain year after year. Cabrini is actively responding to anti-immigrant sentiments today, and will continue to do so.