In aftermath of Federal Executive Orders on Immigration, New York's Immigrant Communities Need Services More Than Ever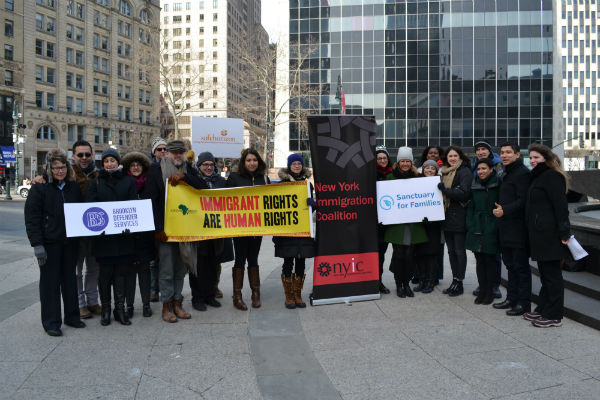 Today, legal service providers and advocates came together at Foley Square to urge State and City elected leaders to provide the necessary funding in their respective budgets for immigration legal services. Advocates cited a new report released by New York Immigration Coalition that examines the challenges to accessing and providing legal representation for immigrants. Among the major obstacles to accessing legal services, as noted in the report, include political, geographic, and financial barriers, long wait lines, and language access. While the biggest investment in legal services in New York State is in citizenship services, the main legal service needs are in deportation defense, family-based petitions, asylum, and criminal-immigration issues. In addition, legal service organizations are overburdened and underfunded. While New York State has 158 organizations that provide legal services in New York State, 121 of those are in New York City, demonstrating a lack of access across the State.
Since January 20th, there has been a dramatic shift in U.S immigration policies due to the implementation of President Trump's immigration executive orders that have left hundreds of thousands of New Yorkers vulnerable to arrest, detention, and deportation. While communities are living in constant fear, the lack of available lawyers leaves families with little ability to protect themselves and ensure that their rights are not being violated. At the same time, providers are beyond capacity. Rapid response efforts, like the impromptu JFK legal clinic created during the travel ban, further tax already overworked attorneys. Our elected leaders must invest in legal services so that New York remains a city that protects and supports immigrants and their contributions.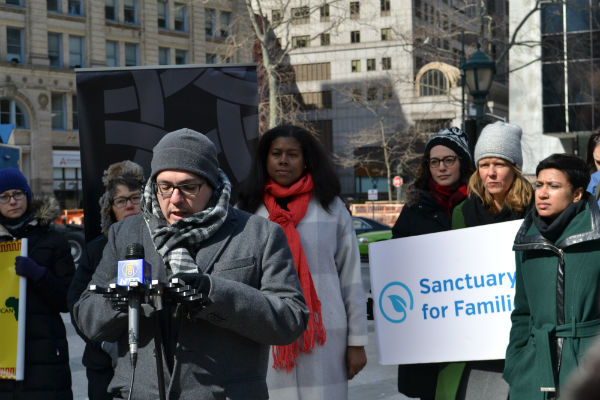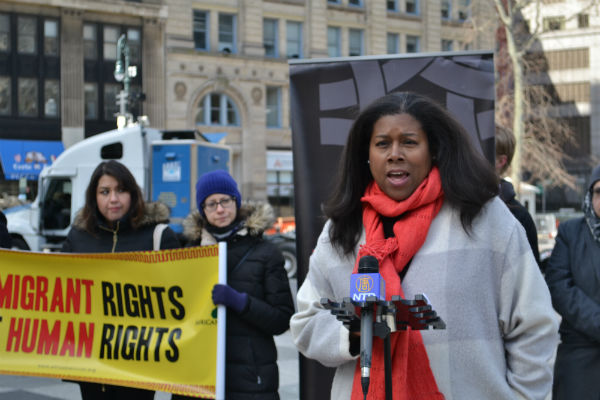 Steven Choi, Executive Director of New York Immigration Coalition said, "With the Administration's immigration executive orders in full effect that have greatly expanded enforcement, emboldened Immigration Customs Enforcement to target and detain immigrants, and caused mass panic in communities, it is essential that New York City and State step up to provide the necessary legal services to represent the thousands of impacted immigrants in New York State. Now is the time for our State and City's elected officials stand by their promises to protect immigrant communities by truly investing the necessary financial resources to provide legal representation."
"As federal immigration policy changes, there will be an increasing need for reliable information, services and representation to thousands of worried and confused immigrant New Yorkers," said Joanne M. Oplustil, President & CEO, CAMBA / CAMBA Housing Ventures. "CAMBA and other community-based organizations can only meet these legal needs if New York's political leadership stands together in increased support of the city's vulnerable populations."
Juan Carlos of New Sanctuary Coalition said, "We hear from our members that despite their best efforts to obtain legal services, it can be close to impossible. We know of members who have called hotlines to receive legal services and have not been called back leave messages and are never call back. In the rare occasion that someone is able to make an appointment, most times they are turned away because the lawyers are simply overbooked and overworked. We need more lawyers to serve our communities who are in dire need of representation."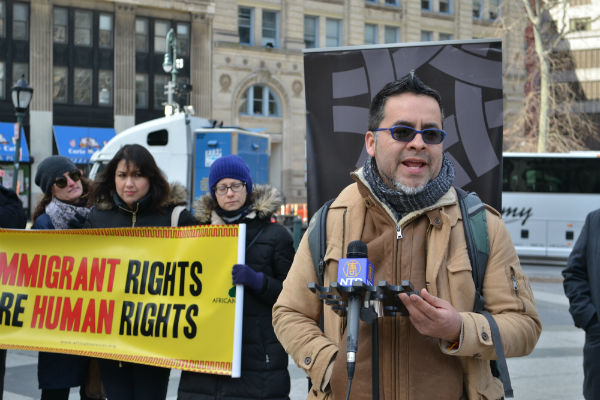 "Increased access to legal assistance is an essential component of supporting New York immigrant communities and we need critical expansion of these services right now," said Anne Erickson, CEO of Empire Justice Center, a member organization of the New York Legal Services Coalition. "Far too often we see individuals put at risk and families torn apart because they cannot afford a lawyer to help them through the complicated legal system and help them understand and fight for their rights. Studies have proven that immigrants with legal representation are far more likely to seek relief and win in their cases than those who go unrepresented. New York can and must do more to make legal assistance available in this challenging time. We join with the New York Immigration Coalition in calling on our state leaders – as they move into the final weeks of state budget negotiations – to put new and desperately needed funding into the budget to ensure access to justice for New York's immigrant communities."
"Our civil rights are only as strong as our ability to defend them. Without the resources for agencies like LSA Family Health Services to provide access to legal counsel, we are leaving those who are most in need of protection at the greatest risk of having their civil rights violated," said Reada Edelstein, CEO, LSA Family Health Service.
"Immigrant Justice Corps is committed to providing legal services to immigrants who need them most," said Immigrant Justice Corps legal director, Victoria Neilson. "With over 70 fellows in the field, IJC is providing representation in every borough of New York City, on Long Island, and in the lower Hudson Valley. In the fall, we will add more lawyers in Kingston, Albany, and Buffalo. But everyone is already working beyond capacity. There is real fear in the community and more than anything immigrants need lawyers – to provide consultations, to assist with applications, and, especially, to defend them in deportation proceedings. We join our colleagues in calling upon New York State and City government to increase funding to protect immigrant New Yorkers."
The New York Immigration Coalition's new report – No Safe Harbor: Challenges in Obtaining Immigration Legal Services in New York State – is available at site here.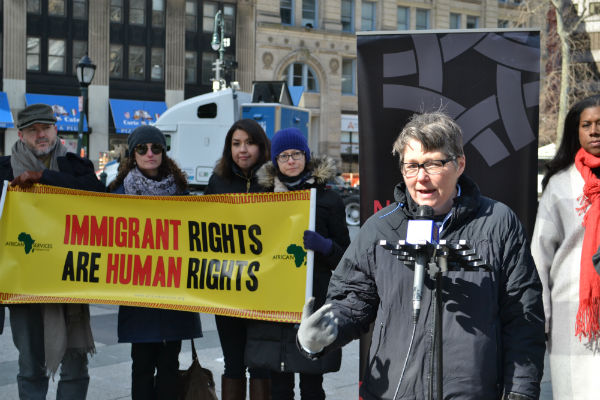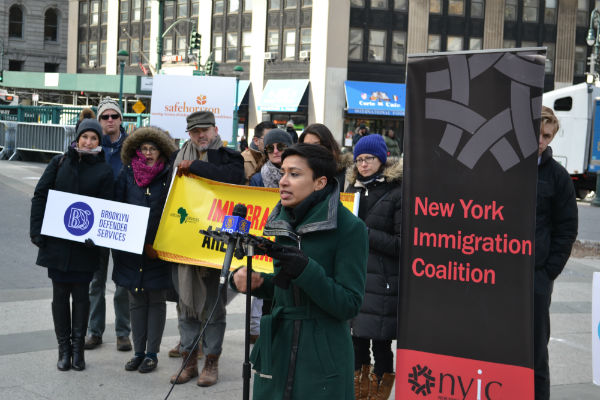 ###
The New York Immigration Coalition (NYIC) is an umbrella policy and advocacy organization for nearly 200 groups in New York State that work with immigrants and refugees. The NYIC aims to achieve a fairer and more just society that values the contributions of immigrants and extends opportunity to all by promoting immigrants' full civic participation, fostering their leadership, and providing a unified voice and a vehicle for collective action for New York's diverse immigrant communities.