In Post-Election Climate, Unscrupulous Legal Providers May Prey on Immigrant Fears
New York City Council Speaker Melissa Mark-Viverito and Council Members Daniel Dromm, Carlos Menchaca, and Rafael Espinal joined New York Immigration Coalition and community advocates in a press conference, ahead of a joint hearing by the New York City Council Committees on Consumer Affairs and Immigration, to discuss the urgent need for Intro. 746. The bill is aimed to prevent non-attorneys from providing fraudulent and/or unauthorized immigration legal services in New York City and creates new, stronger tools for the Department of Consumer Affairs to enforce the rules.
Passing Intro. 746 would empower the Department of Consumer Affairs to be more effective on enforcement, outreach, and education and is a significant step that New York City can take to ensure that our communities will be able to fight back against those that seek them harm. With tremendous fears in reaction to the outcome of last week's presidential elections, it is more important than ever that New York City lead the way in protecting our immigrant communities. As the risk of deportations grows exponentially, ensuring that immigrant New Yorkers have access to reputable, trustworthy legal services and legal defense is critical.
New York City electeds supportive of the legislation joined advocates ahead of the committee hearing to express their support.
"In these uncertain times, there are people who will try to take advantage of vulnerable immigrants who seek legal services in order to make profit," said Speaker Melissa Mark-Viverito. "This bill would help protect the immigrant community from becoming victims of fraud and safeguard them from the consequences of the unauthorized practice of law. The Council is proud to be at the forefront in the fight to make our immigrant New Yorkers feel safe and included in our city."
Daniel Dromm, NYC Council Member (D-Jackson Heights, Elmhurst) said, "I am proud to sponsor this bill, which will strengthen protections against immigration services fraud and the unauthorized practice of law. Sadly, immigrant New Yorkers often fall victim to unscrupulous and unqualified 'immigration assistance service providers' who fail to provide any meaningful services. Fraudulent service providers jeopardize their clients' immigration cases and financial well-being by demanding thousands of dollars to fill out the most basic paperwork. I thank the New York Immigration Coalition and my colleagues for working with me to safeguard immigrant families and their economic futures. So many lives will be positively impacted by this legislation."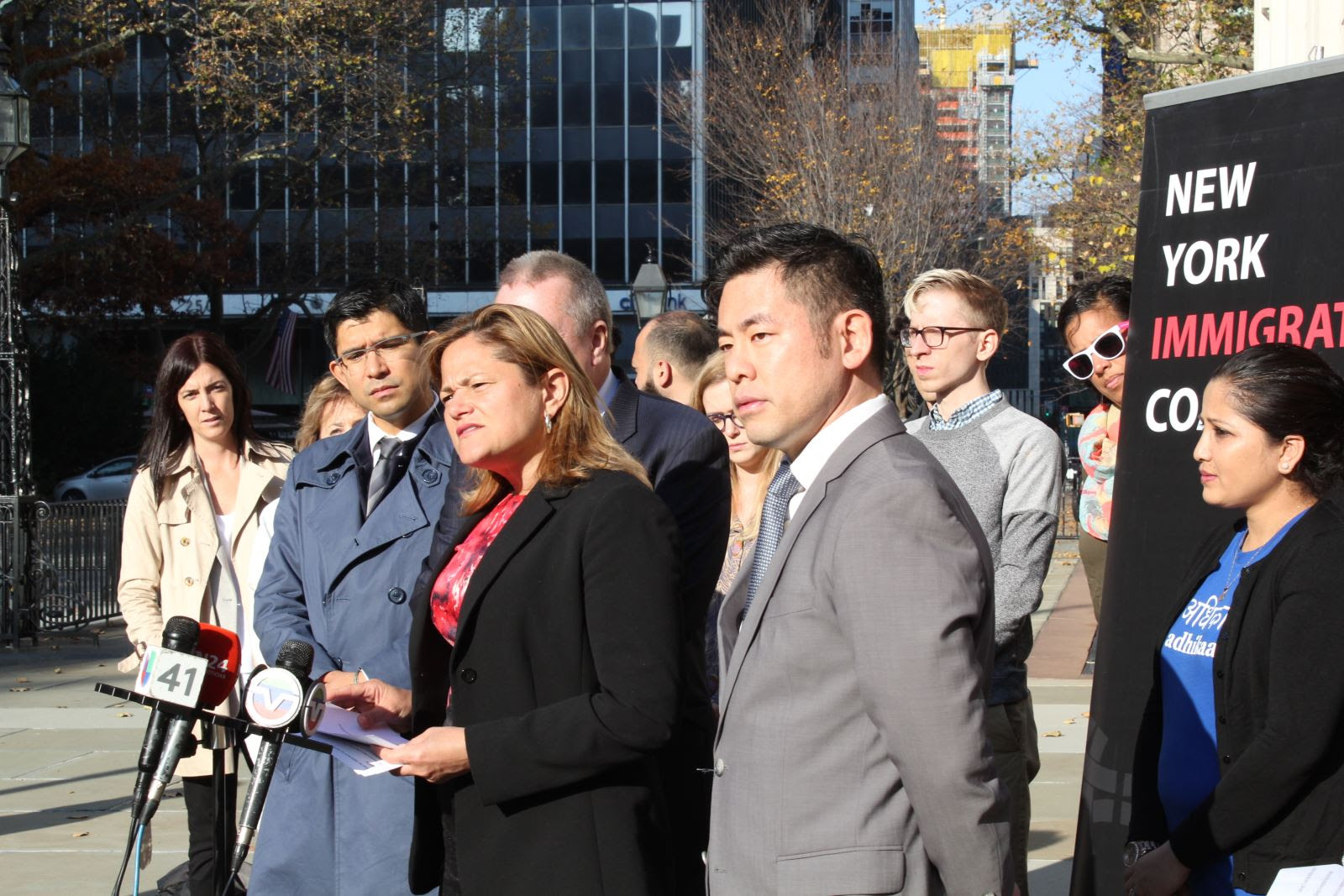 Speaker Melissa Mark-Viverito speaks in support of Intro. 746.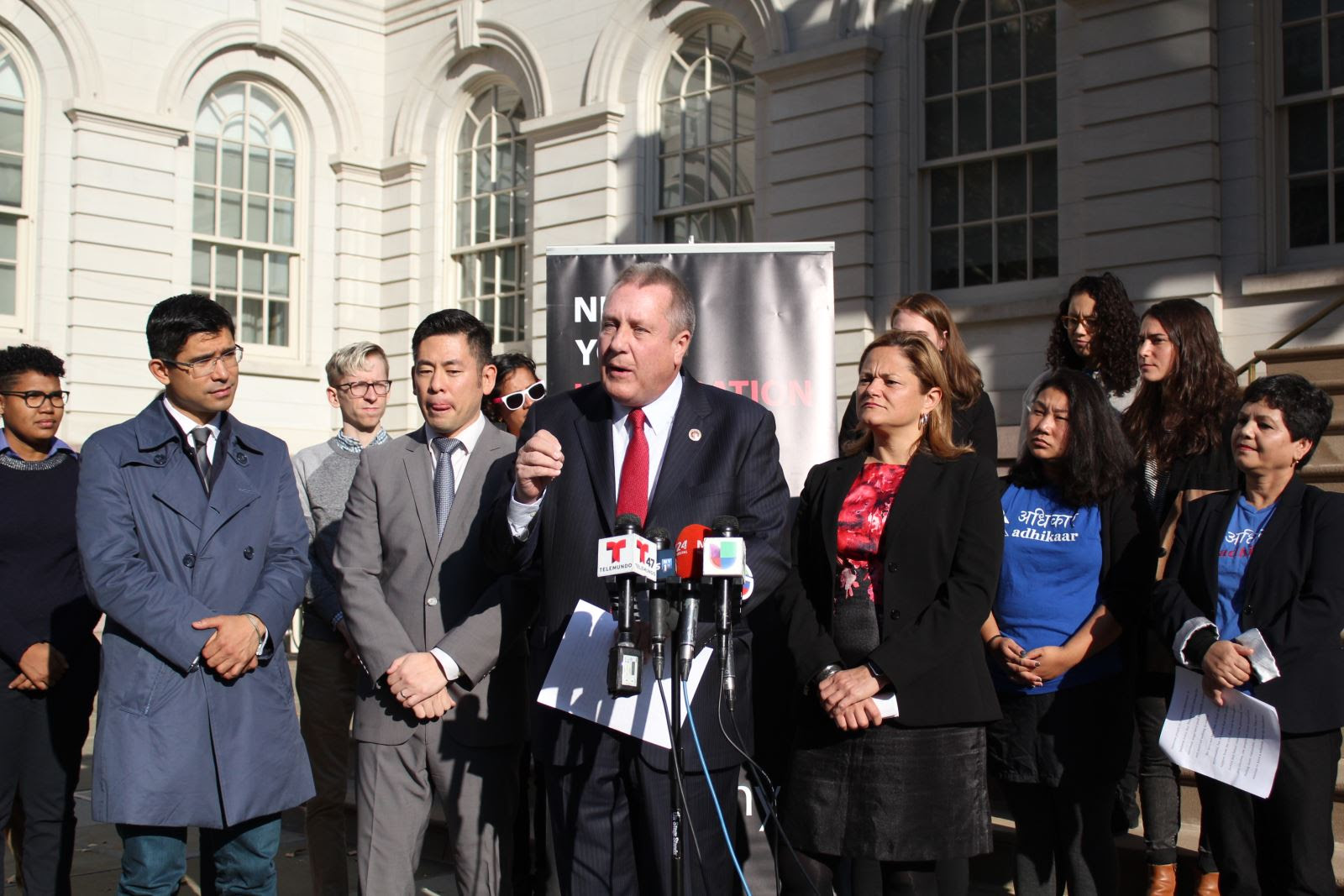 Council Member Danny Dromm calls for protection of immigrant communities.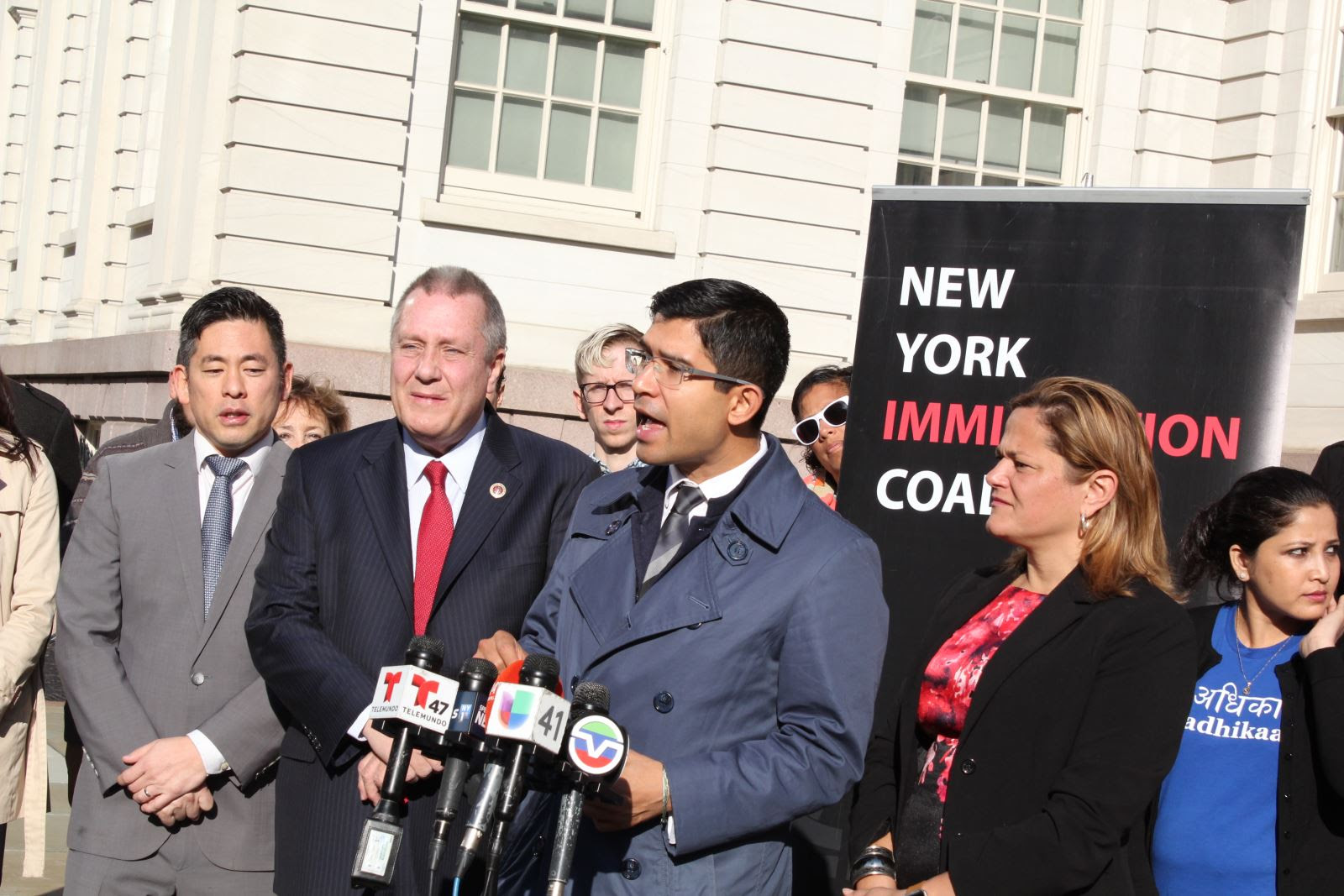 Council Member Carlos Menchaca speaks about the need to stop people from taking advantage of the most vulnerable.
"No immigrant should be defrauded by Immigrant Service Providers, or any entity looking to take advantage of vulnerable individuals," said Council Member Rafael Espinal. "I am pleased to hold today's hearing on Intro 746 in the Committee on Consumer Affairs, which I chair, and in conjunction with the Committee on Immigration chaired by my colleague, Council Member Menchaca. Especially now, in the era of a pending Trump Presidency, we must do all we can to reject intolerance and abuse wherever we see it. New York will not stand for ruthless deportation, or the targeting of any individuals based on the color of their skin, gender, sexual orientation, or immigration status. I am proud to be taking this first step in providing protections for immigrants and look forward to seeing this bill to passage."
Advocates spoke out about the dire need for a bill that protects them from fraudulent immigration services.
Steven Choi, executive director of New York Immigration Coalition said, "Now more than ever, we need New York City to step up and support immigrant communities. President-elect Donald Trump has vowed to deport millions of immigrants and communities are terrified about what's to come. In such a climate of fear, this opens up opportunities for unscrupulous individuals to take advantage of immigrants by promising relief, permanent residency, or citizenship that they cannot actually provide. By passing Intro. 746, the City can ensure that immigrant communities are protected and that the Department of Consumer Affairs enforces the law to fight back against those who try to harm immigrants. We thank our champions including New York City Speaker Melissa Mark-Viverito and Council Members Danny Dromm, Carlos Menchaca, and Rafael Espinal for continuing the important work of standing up for New York's immigrant communities."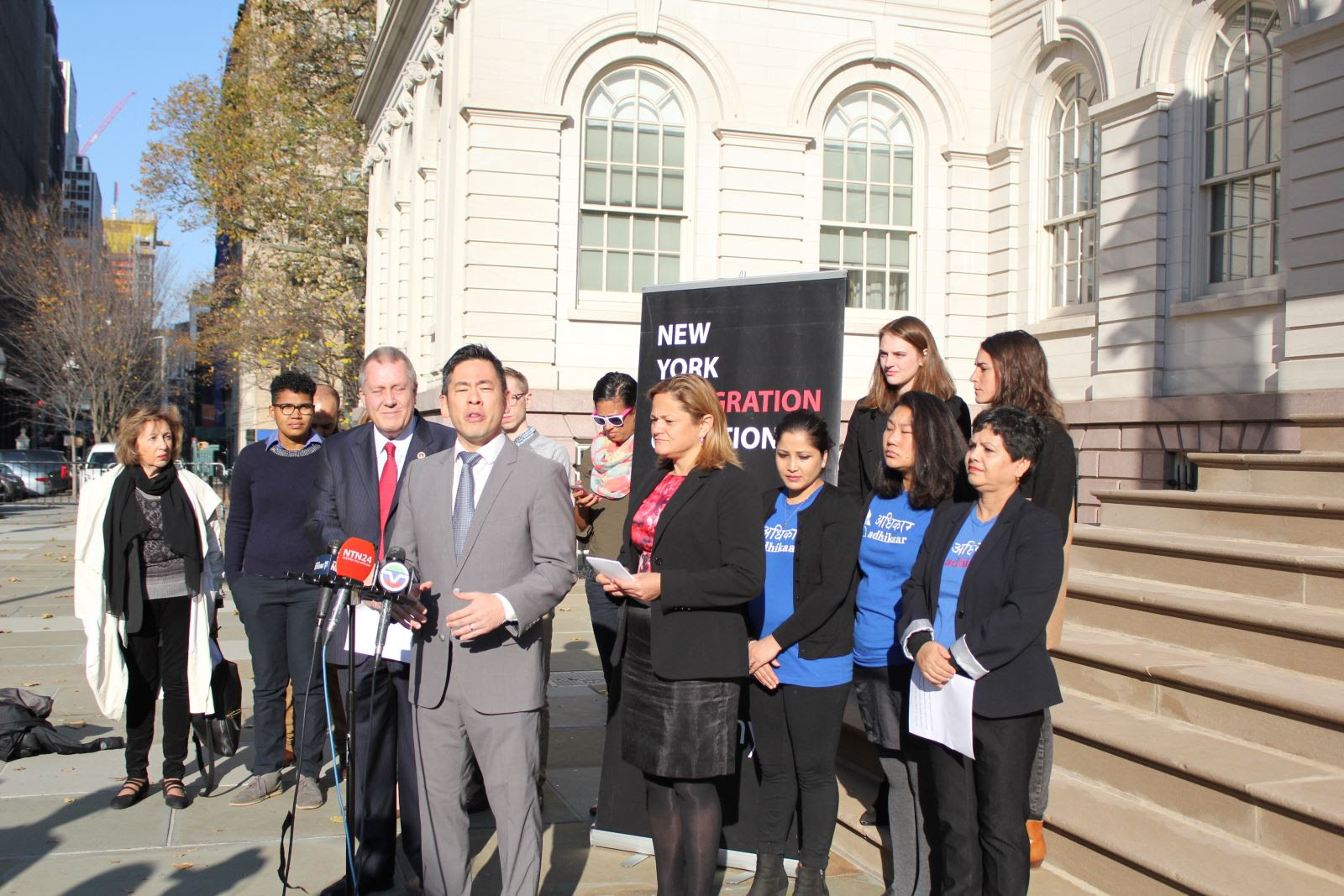 Steven Choi, executive director of NYIC, speaks about the importance of protecting immigrant communities during a time of great fear.
Stephanie DiPietro, the Chair of the New York Chapter of the American Immigration Lawyers Association, said "AILA NY Chapter supports Int. No. 746 which protects residents of the state of New York from unauthorized practice of immigration law by Immigration Assistance Services while ensuring competent, low cost, immigration legal assistance for all. In this time of uncertainty it is more important than ever that immigrants be protected from unscrupulous providers and be able to connect to trustworthy legal help. AILA-NY looks forward to working with the legal services community and our City government to help make that a reality."
Narbada Chhetri, Director of Organizing & Advocacy at Adhikaar said, "As the system gets more complicated, difficult and uncertain, our already vulnerable community members are at an even higher risk. We need legal services that are both high quality and accessible so that fraudulent providers taking advantage of the vulnerable are put out of business and held accountable. The city needs to step up to protect their people and provide justice."
Manny Castro, executive director of New Immigrant Community Empowerment (NICE) said, "As an organization who serves hundreds of undocumented workers, we know first hand the dangers of fraudulent legal practitioners who deceitfully say they can provide help to change someone's status. This type of fraudulent activity worsens our members cases and further puts them in danger of deportation. This is why passing Intro.746 today is essential to protecting New York's immigrant communities."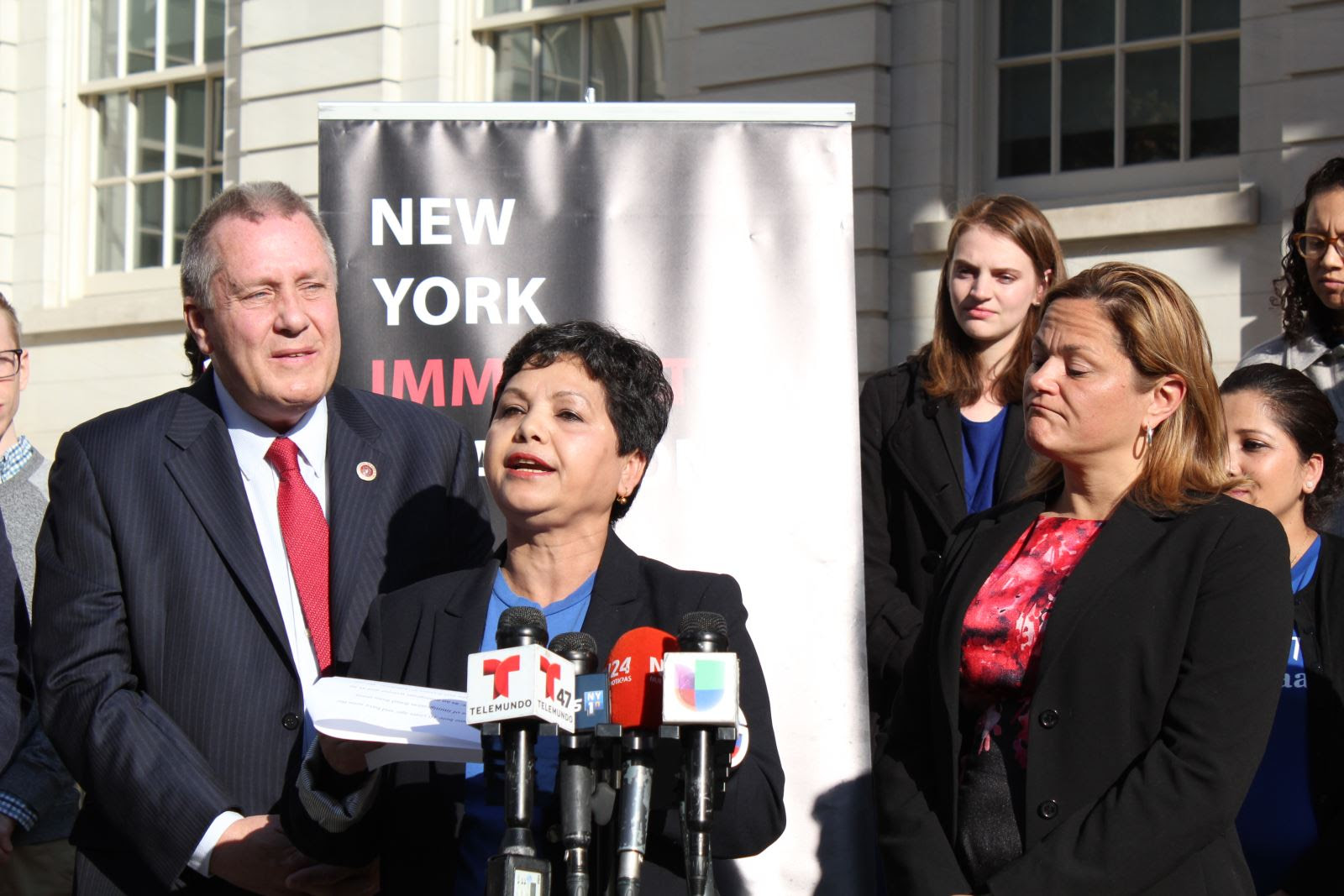 Narbadha Chhetri, director of organizing and advocacy at Adhikaar, speaks about the needs in the Nepali community.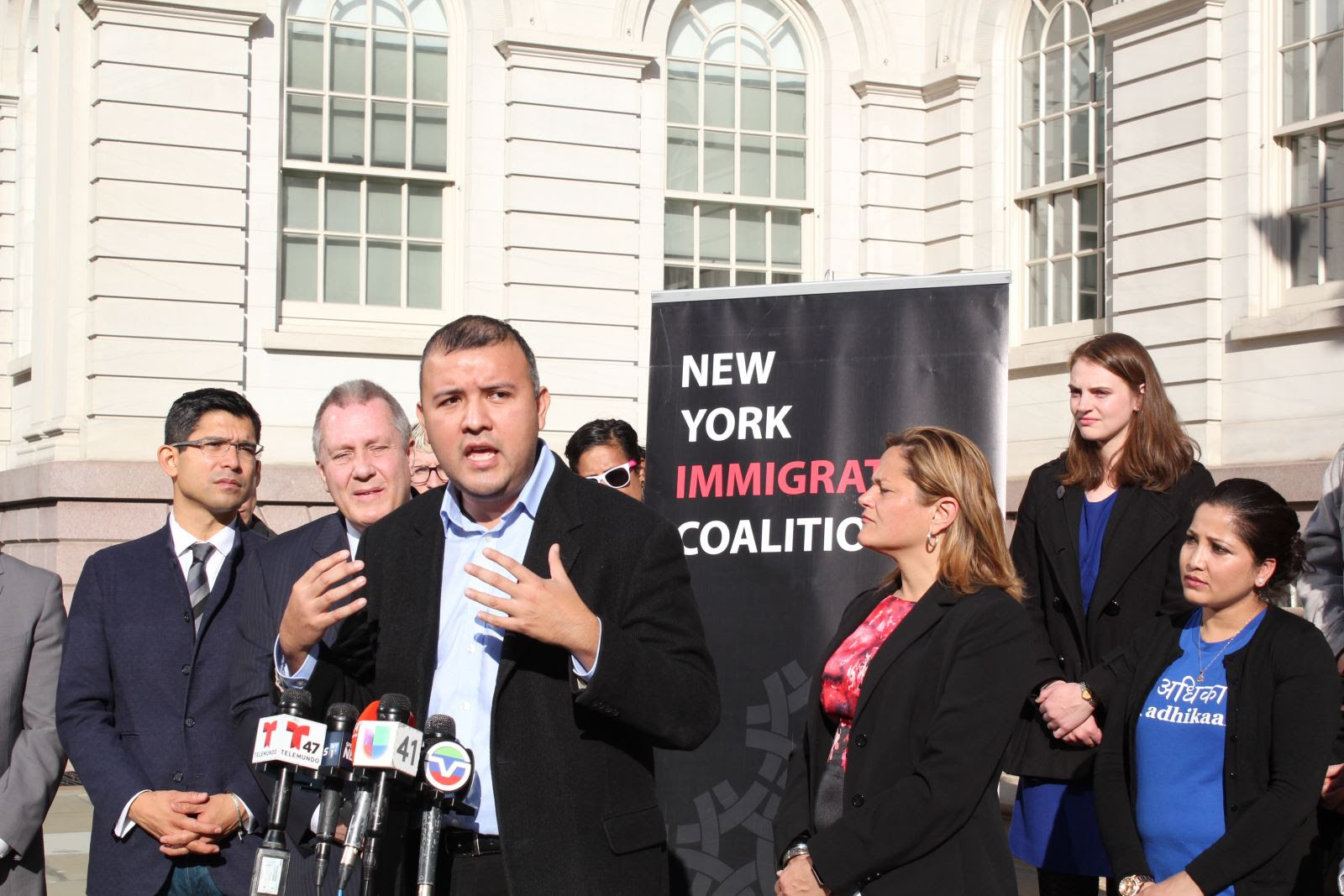 Manny Castro, executive director of NICE-NY, speaks about how fraudulent immigration services have impacted Latino workers.
# # #
The New York Immigration Coalition (NYIC) is an umbrella policy and advocacy organization for nearly 200 groups in New York State that work with immigrants and refugees. The NYIC aims to achieve a fairer and more just society that values the contributions of immigrants and extends opportunity to all by promoting immigrants' full civic participation, fostering their leadership, and providing a unified voice and a vehicle for collective action for New York's diverse immigrant communities.