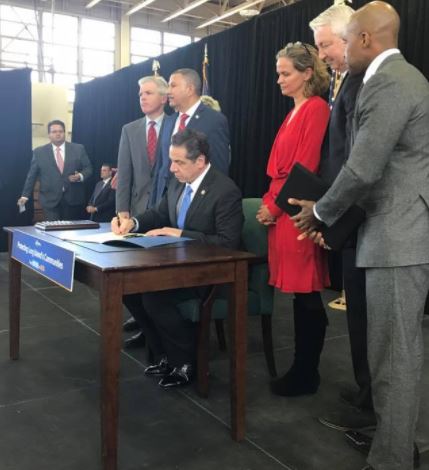 Gov. Cuomo signing legislation provinding aid to Long Island communites for gang prevention.
Elected officials on Long Island are trying to cope with Suffolk County being placed in the national spotlight by President Trump over MS-13 gang violence. Over the last several years the gang has been blamed for at least seventeen murders, all of young people from Latino families. While the killings have been gruesome, they have not turned the region into a combat zone needing "liberation," as President Trump has alleged. In fact, Long Island, with nearly three million people, has had an average of fewer than 60 total murders per year for the last three years, a murder rate roughly half that of New York City. Long Island's murder rate is actually lower than that for Kansas.
Last week, Gov. Andrew Cuomo visited Brentwood to announce that an 18 million dollar state aid package would soon arrive from the state to fund local after-school and mental health services to help discourage gang membership among the community's growing Central American population. "Let's reach out to the young person early on so that they never fall into the gang web to begin with," Cuomo told community leaders gathered at the local recreation center. Assemblyman Phil Ramos sounded a similar note, suggesting that the failure of local government to make provisions for the children was a cause of the stepped-up recruitment by MS-13.
Congressman Peter King, whose district includes Central Islip and Brentwood, told voters yesterday that he supported increased Suffolk Police and ICE cooperation in arresting suspected gang members. While conceding that "95%" of Unaccompanied Children are "good kids," he said that he believes that any dangers from police working with ICE are outweighed by the threat from MS-13.
Tom Suozzi, whose Congressional District is just north of King's, responded to King's remarks saying that "when people are forced underground" the gangs flourish. As a former mayor and county executive, Suozzi warned that if immigrants "are afraid of government…because of the things the president is Tweeting out, where will they go to for protection? The gangs."
Suffolk's new sheriff, Errol Toulon Jr., has taken King's side in the debate. He is holding immigrants on Ice detainers even if they have been acquitted on criminal charges, claiming that this is one solution to the gang problem. In Nassau County, new County Executive Laura Curran is reviewing policies that allowed police cooperation with ICE.
While there is emergin sentiment on Lng Island in favor of a greater emphasis on preventative services, outside forces from Fox News to presidential Tweets keep pushing less promising, but more brutal, alternatives.
Pat Young is an attorney at the Central American Refugee Center (CARECEN) on Long Island.