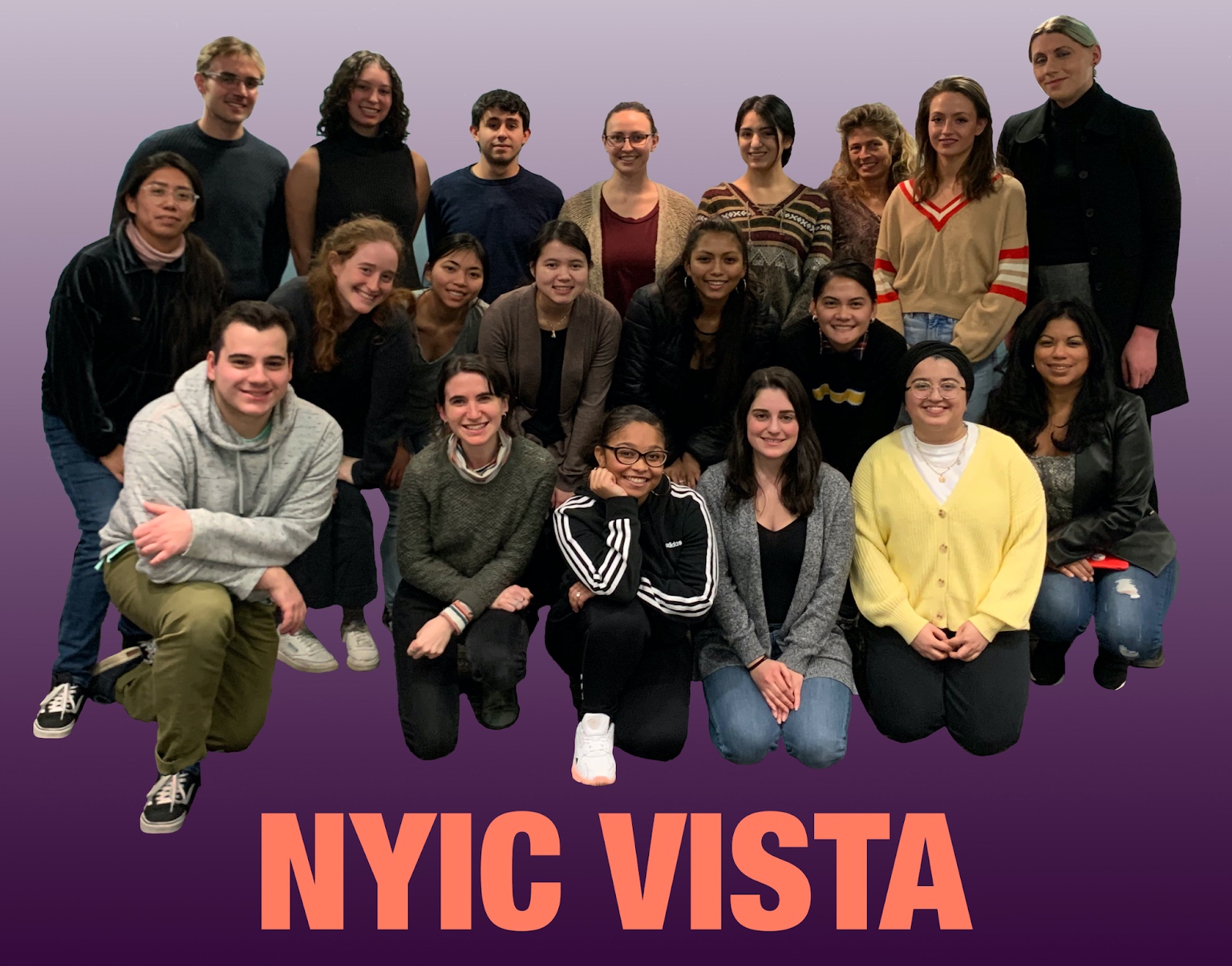 OVERVIEW
The NYIC VISTA program places AmeriCorps VISTAs – referred to here as NYIC VISTAs – at nonprofit organizations throughout New York State, where they build organizational capacity for nonprofit organizations providing anti-poverty services to immigrant communities. NYIC VISTAs work on communications, fundraising, operations, program development/outreach and/or volunteer management projects.
TERM OF SERVICE
Full time (35 - 40 hours a week)
12 months
SUPPORT/BENEFITS
During their year of service, NYIC VISTAs are supported with the following benefits:
Living Allowance (an AmeriCorps VISTA stipend ranging from $22,881.85 to $29,123.35 depending on the county that the position is based out of)
Choice of a health plan for AmeriCorps VISTAs or a health voucher to cover medical expenses not fully covered by insurance
Choice of a year-end education award ($6,895 voucher) or cash stipend ($1,803)
Eligibility for benefits such as:

funds for relocation
child care support
student loan forbearance/deferment

AmeriCorps VISTA Virtual Member Orientation (VMO) facilitated by the Corporation for National and Community Service (CNCS)
Weekly NYIC VISTA webinars and in-person multi-day summits which support NYIC VISTAs in networking with each other, building community and gaining skills and knowledge in core skill areas (e.g., leadership, time management), capacity-building (e.g., fundraising, volunteer management) and immigration issues and their intersections with poverty issues
Ongoing check-ins, guidance and support from the NYIC
Group national days of service volunteer activities
Celebration activities/events
ELIGIBILITY
In order to be eligible for an NYIC VISTA position, one must be:
18 years of age or older
And have work authorization in the United States
OPEN NYIC VISTA POSITIONS
To learn more about the open positions, please visit our listing page.
HOW TO APPLY
To apply for a NYIC VISTA position, please follow the following steps:
Create a MyAmeriCorps account/profile at https://my.americorps.gov (please note that your profile will function as your content for any application you officially submit to an individual AmeriCorps VISTA position)
Sign into your MyAmeriCorps account
Go to the MyAmeriCorps page for any NYIC VISTA position that you want to apply for. To find the position's MyAmeriCorps page, either click on the position's hyperlinked title on this page or run a search for the position using the MyAmeriCorps website's search engine (write "NYIC" in the Program field)
Once you are on the position's MyAmeriCorps page, click on the "Apply Now" button at the bottom of the page
CONTACT
If you have questions about the NYIC VISTA program, please contact vista@nyic.org and include the term "NYIC VISTA" in the subject line. Please do not call.