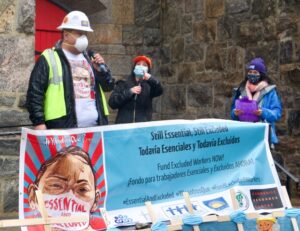 The New York Immigration Coalition, in conjunction with the FEW Coalition, won an important victory in 2021 for immigrant New Yorkers devastated by the COVID-19 pandemic and excluded from all federal and state relief. The establishment of the Excluded Workers Fund is the first of its kind—a $2.1 billion statewide fund offering any workers, including undocumented immigrants, who were not eligible for unemployment benefits, an opportunity for recovery.
For multilingual resources on how to apply and more, visit the FEW Coalition website.
For application details, visit the Department of Labor website.