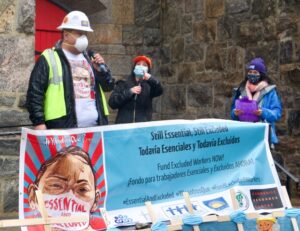 The New York Immigration Coalition, in conjunction with the FEW Coalition, won an important victory in 2021 for immigrant New Yorkers devastated by the COVID-19 pandemic and excluded from all federal and state relief. The establishment of the Excluded Workers Fund is the first of its kind—a $2.1 billion statewide fund offering any workers, including undocumented immigrants, who were not eligible for unemployment benefits, an opportunity for recovery.
While this was a landmark win, the fund was depleted in only a few months, keeping 173,000 eligible workers from receiving benefits. The NYIC is fighting alongside the FEW Coalition to allocate an additional $3.1 billion to the Excluded Worker Fund, so that all qualifying immigrant New Yorkers can be supported in our statewide recovery.
To learn more about our campaign, download our one pager.